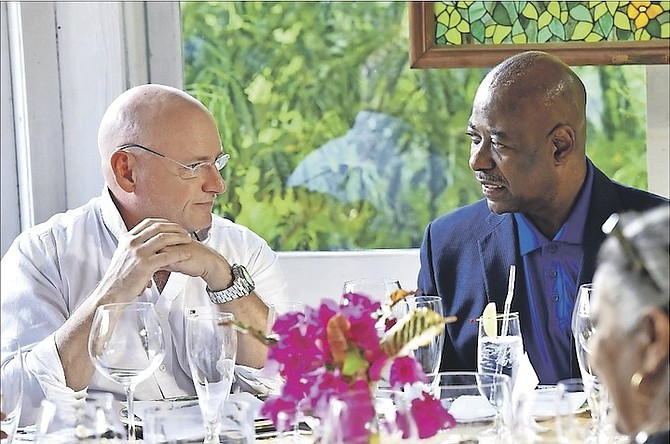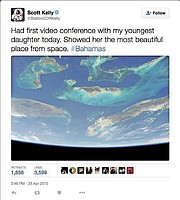 RETIRED NASA astronaut Scott Kelly touched down on the beautiful shores of The Bahamas last weekend to experience firsthand the beauty and culture of the islands he gazed on from space during his time orbiting Earth.
The famous American astronaut accepted the Ministry of Tourism's invitation to visit the Bahamas after he returned to Earth in March following a yearlong mission in space.
Mr Kelly, his daughter, and significant other had dinner with Minister of Tourism Obie Wilchcombe on Sunday at the historic Graycliff restaurant before departing for Exuma on Monday.
"We made contact with him and soon after he arrived on Earth, he accepted our invitation. It is our pleasure to treat him to this much-needed vacation. We wanted him to spend time in The Bahamas so that he can enjoy all of the things that are important to us, and see why we say 'It's Better In The Bahamas,'" Mr Wilchcombe said.
Mr Wilchcombe presented Mr Kelly with a framed coin from The Central Bank of The Bahamas featuring the Bahamas from space.
Mr Kelly also met with science and technology students from local high schools and The College of The Bahamas and answered their many questions after dinner.
When asked by one of the excited students why he continued to post about The Bahamas during his mission, Mr Kelly's answer was simple – there is nothing like it.
"There are other places where the water is blue and clear, but there is nothing like it is (in The Bahamas.) It is so expansive and so absolutely beautiful," he told the group.
"I think one of the reasons why we know that aliens have never come to Earth is because they would've all been here in the Bahamas. If you're going to land somewhere on Earth, you would land in the most appealing place from space," he joked.
During his mission, Mr Kelly shared dozens of stunning photos he took of the country, especially the Exuma chain.
He tweeted to his more than 421,000 followers, and mainly to his daughter, that the Bahamas is "the most beautiful place from space".
His tweets attracted international attention.
In Exuma, Mr Kelly will have the opportunity to see the beauty of the islands up close. He will be treated to snorkelling, fishing, feeding the iguanas, swimming with the pigs and some much needed rest and relaxation.
He described the islands as "a refreshing sight" during his time in space.
Director General in the Ministry of Tourism Joy Jibrilu spoke of Mr Kelly's impact on the Bahamas as a brand.
"Kelly's Bahamas tweets from space, about the beauty of The Bahamas was a true highlight," she said.
"Over 251,000 stories were written globally about this. He helped us tell the world just how beautiful our destination is."
Mr Kelly is expected to document his trip to Exuma and share it with his hundreds of thousands of social media followers.