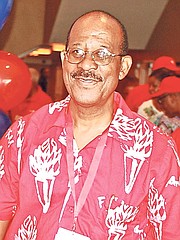 By SANCHESKA BROWN
Tribune Staff Reporter
sbrown@tribunemedia.net
FREE National Movement Chairman Sidney Collie said yesterday it is time for former Cabinet minister Tennyson Wells to "zip his lips" if he is not saying anything "helpful" or beneficial to the party.
"It's time for him to stop talking," Mr Collie said in an interview with The Tribune. "He isn't doing us any favours."
His comments come one day after Mr Wells said the FNM would lose the Long Island seat in the 2017 general election if it presents current Long Island MP Loretta Butler Turner as a candidate for the area. He said the party should find another constituency for her to run in "because she will not be able to salvage the damage she did with the people down there."
However, Mr Wells admitted that Mrs Butler-Turner did the right thing when she urged her supporters on Sunday to back FNM Leader Dr Hubert Minnis.
Mr Collie said he understands that "a lot" of FNMs do not believe Mrs Butler-Turner's new support of Dr Minnis is sincere, but he said he believes she is genuine and she wants to see the party move forward.
"Many FNMs, senior members and supporters, are still sceptical and believe she isn't being truthful," Mr Collie said. "A lot of persons have expressed doubt and concern but I believe she has turned the page and she wants to see the FNM (become) the government. What matters is that the leader believes her and he does. He has offered her the nomination for Long Island and he intends to keep that promise. Tennyson Wells is a friend and we go back but he needs to zip it up, especially if he is not being helpful. I would prefer for him not to make them public statements.
"I can say without a shadow of a doubt that she will be given that nomination. She has an important voice in the party and we all fully support her."
Mr Collie said the FNM plans on having a conclave "before the end of the year" to bring everyone together for a "show of unity" in preparation for the general election.
Days after insisting that she "can't be bought" by the FNM, Mrs Butler-Turner on Sunday made a drastic change in position and urged supporters to back Dr Minnis' team.
She appealed for the party and the wider public to be patient with her as she continues to "grow and change" and said she would accept the party's nomination for the Long Island constituency if voters there wanted her to do so.
Her statement came after a bitter fight with Dr Minnis in the lead up to a leadership race at the party's three-day convention last month. Mrs Butler-Turner dropped out of the race on the final day of the convention. She had earlier accused Dr Minnis of trying to "silence" her and "steal" the convention.