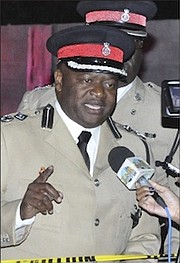 By DENISE MAYCOCK
Tribune Freeport Reporter
dmaycock@tribunemedia.net
SEVERAL persons in Abaco who are suspected of being involved in a boat theft ring on that island have been arrested, Senior Assistant Commissioner of Police Emrick Seymour told The Tribune.
He also said that a task force has been assembled to combat the boat thefts in the northern Bahamas.
Boat thefts have been an ongoing issue plaguing Abaco, which has a growing reputation as "the boat theft capital of the Bahamas." In the last six weeks alone, about 17 boats were stolen and although nearly all have been recovered, the engines were missing.
Residents are frustrated over the situation and complain that police lack sufficient resources in Abaco to tackle the problem and catch the culprits.
The Tribune spoke with Snr ACP Seymour about this issue on Wednesday at police headquarters in Grand Bahama.
He said: "We have had several incidents of boat thefts in Abaco, we have employed a task force with a combination of officers from Grand Bahama, Abaco and Bimini where we are doing some work in that regard.
"I am satisfied that in recent times, we have had some (boat) recoveries and we just arrested several persons recently who we feel are part of the boat theft ring, and are continuing our investigation."
In terms of sufficient manpower and resources, he stated that law enforcement is not only made up of the police, but also the defence force and other agencies.
The police chief for Grand Bahama said that they also depend on the community to assist them.
"The police are only as strong as the community wants it to be, we cannot do it alone," he said. "We are doing the best we can with Abaco and Bimini, and the other islands as well.
"I am satisfied that what we are doing is in fact working because I am seeing positive results in our crime stats, and we are encouraged by our crime stats because they are down year to date," he said.
Residents in Abaco, however, do not feel that enough attention is being given to the issue when incidents are reported to the police.
Last month, a resident told The Tribune that their small runabout was launched at Hope Town and stolen within hours. An aircraft was mobilised with spotters and the vessel was found. With an armed policeman, the boat was recovered but as they approached a suspicious white van it sped away.
Residents claim they called police in Marsh Harbour about the van only to be told that officers were too busy and they "didn't have time for that."
Abaco resident and businessman Steven Albury believes that one police patrol boat is not sufficient, and that at least five police boats are needed to patrol the island of Abaco and its many cays.
Because the Abaco economy depends heavily on tourism, it is feared that the continuing rash of thefts will hurt the industry, scaring visiting boat owners who go there to vacation or spend time at their second homes.
The island of Bimini has also been targeted by thieves. According to reports, on July 30 a vessel was stolen from a marina there around 4 o'clock in the morning. The boat was equipped with a Seatrax GPS, which alerted the boat owner by text messages that the vessel was moving.
When the owner went to check, the boat was gone. Because of the device, he was able to track its movements and the vessel was tracked 75 miles, with speeds up to 52 mph, and was spotted by Freeport Harbour Patrol at 6.40am as it arrived into a remote canal.
The police intercepted the boat in Freeport but the three thieves jumped off the boat and escaped. The boat was damaged in the process, but was later returned to the owner.
It is believed that boats are being stolen by thieves for human smuggling operations, which is a very lucrative nefarious activity, especially in Grand Bahama and Abaco.