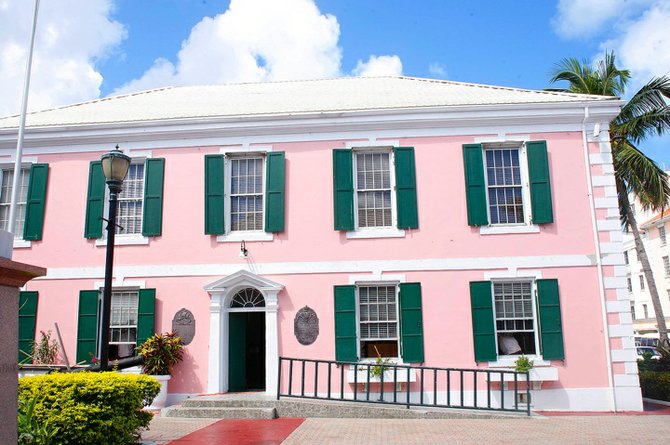 By RICARDO WELLS
Tribune Staff Reporter
rwells@tribunemedia.net
SAVE The Bays Chairman Joseph Darville yesterday urged House of Assembly Speaker Dr Kendal Major to "call off efforts" to have certain members of the organisation held in contempt of Parliament.
In an open letter addressed to Dr Major, Mr Darville commended the Garden Hills MP on his perceived shift in stance on the matter. He said that from the beginning, STB has held the position that the fundamental constitutional rights of its members were being violated by the actions of Education Minister Jerome Fitzgerald.
Last Thursday during an appearance on the 96.9 FM talk show "Morning Blend," Dr Major admitted that in hindsight, he should not have allowed the Marathon MP to read and table the private emails of the environmental group in March.
However, Dr Major went on to suggest that the judiciary should not have the power to interfere with matters in Parliament and said "respectfully," the court ought to mind its own business.
Mr Darville on Sunday said members of STB were "extremely heartened" to know that Dr Major felt the "unwarranted attack on private citizens was also a violation of best parliamentary practices."
Mr Darville said it was "lamentable" that the path to such a conclusion took "so long" and became "turbulent and bitter."
"It is our humble view, Mr Speaker, that this unfortunate debacle was totally unnecessary from the outset," Mr Darville said.
He added that it would be in the best interest of all those involved that the matter be brought to a "peaceful, fair and sensible" conclusion before any further damage could be done to the reputation of the Bahamas.
Mr Darville said it was unfortunate that certain factions within Parliament would not favour a calming of tensions, but instead continue to push for an "ever-heightened level of hostility and extreme rhetoric in the public sphere."
In particular, Mr Darville said the ongoing effort to have STB's attorneys cited for "contempt of Parliament" runs the risk of doing extreme and perhaps permanent damage to the Bahamas' international reputation.
The House of Assembly's Committee on Privilege was appointed last week to investigate the matter and determine if anyone should be held in contempt.
"The world is indeed watching, Mr Speaker, and we should do everything we can to avoid sending the message that the Bahamas is a place where citizens can be censured and even jailed for seeking to defend their rights through the courts as mandated by the Constitution. Added to which, any such finding would only do untold further damage to the relationship between Parliament and the judiciary.
"We therefore respectfully request, in the interest of calming an unnecessarily inflamed situation that is extremely damaging to the national interest, that you call off the efforts to hold our legal team in contempt."
Mr Darville insisted that STB never sought to become "entangled" in any ordeal with Parliament and remains baffled as to how a lawsuit launched by the group against private individuals led to a hostile attack on STB members by sitting MPs.
He said while much has been made of the group's application for an injunction, the move was only made to defend against further "breaches" of the right to privacy for its members.
"You have been quoted in the press as asserting that the right of Parliament to govern itself should be respected and pointing to your ruling that no further private correspondence in the House," Mr Darville wrote.
"Once again, we are in total agreement with your reasoning, Mr Speaker. However, we would respectfully ask you to recall that your ruling was delivered only after our injunction application had been filed.
"Up until that point, MP Fitzgerald and others had been allowed to attack us at will and with total impunity. At the moment of filing, STB and our frightened, disheartened members had no indication whatsoever that the chair intended to intervene and defend our rights. Indeed, all indications had pointed in the opposite direction.
"We therefore submit that our actions were in no way intended to create the impression of a challenge to either parliamentary privilege or the authority of either the chair. They were simply an attempt to defend ourselves when it seemed there was no one else willing to defend us."
Supreme Court Justice Indra Charles, earlier this month, declared that Mr Fitzgerald was not legally justified when he tabled STB's private emails in the House of Assembly, and therefore could not be protected by parliamentary privilege.
Justice Charles ruled that the Marathon MP's actions were an infringement of the constitutional rights of the applicants and ordered Mr Fitzgerald to pay $150,000 in damages for the breach.
The Office of the Attorney General has said that it would appeal the ruling and was granted a stay pending the appeal.