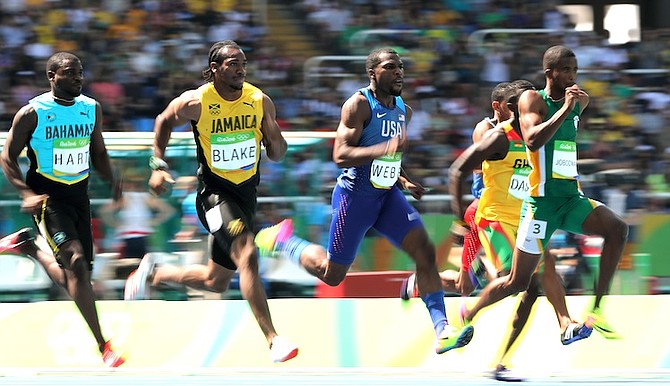 By BRENT STUBBS
Senior Sports Reporter
bstubbs@tribunemedia,net
RIO de Janeiro, Brazil: A disqualification by quarter-miler Demetrius Pinder, a sixth place by collegian Teray Smith and seventh by recent graduate and national champion Shavez Hart was all the Bahamas could muster in the preliminary rounds of the men's 200 metres on Tuesday at the 2016 Olympic Gamers.
Like the men's 100m on day one, none of the male sprinters advanced to the semi-final.
• Pinder disqualified
Trying something new as he made his return from an injury last year, Pinder got into the blocks and had his left hand raised indicating that he was not quite ready for the start of the first of 10 heats in the men's half-lap race. Unfortunately, the officials didn't quite see it that way and they charged him with a disqualification as they called back the race.
"I was trying to get my hand up and I ended up falling," said Pinder, who had to make the long trek on the sidelines as the race eventually proceeded without him. "They had us in the set position for so long, I was trying to get in the set position. But holding one hand down and in the set position at the same time caused me to trap."
Pinder, 27, said it was quite disappointing for him because his training was going quite well – he was running times close to 19 seconds and he wasn't able to show something new in the 200m. Now he will have to wait until next year at the IAAF World Championships in London, England.
But Pinder said the good thing is that he can now get some rest and prepare to join his team-mates in the relay pool for the 4 x 400m as they get set to defend their title from the 2012 Olympics in London.
• Hart missed out twice
Back after getting eliminated in the first round of the men's century, Hart was hoping that he could redeem himself, but his time of 20.74 was only good enough for seventh place in heat two, which saw Spain's Bruno Hortelano set a national record in holding off Jamaican Yohan Blake, who did 20.13. Hart was tied for 56th with Burkheart Ellis Jr from Barbados.
"It felt good the first one hundred metres. I just wasn't able to hold onto what I had built up earlier on during the race," said Hart, who followed fellow Grand Bahamian Pinder at Texas A&M where he just completed his tenure.
"This was kind of like my second 200m for the season, but I felt it was a disappointing performance. But for this to be my second 200m, it ain't bad, but I expected it to be better."
Hart, now preparing to go full time on the professional circuit at the age of 23, said he just has to maintain his body a little better if he intends to be a contender in the future. He too indicated that he's looking for to making an impression at the World's next year.
• Smith ends long season
It wasn't what he anticipated, but Smith knew that after a long season at Auburn University, he wouldn't have much left in the tank to compete here.
The 21-year-old came though the fourth heat in 20.65 for sixth place, but not fast enough to get a shot in the semis. Jose Carlos Herrera from Mexico took the victory in 20.29 and Cuban Roberto Skyers followed in 20.44 to qualify. Smith was left out tied with two others for 52nd overall from of a field of 77 competitors.
"It was just wonderful to be at the Olympic Games. I'm only 21 going into my senior year going into college," said another Grand Bahamian. "I felt like this was a learning experience for me. I didn't do too much running this year. I just came off injury, but I'm still thankful to be able to represent my country."
Looking back at his race, Smith said he got up too fast, something he will have to work on when he gets back to school. He said the lack of competition, not having a race since he competed in their regional championships in June, showed that he still has a lot of work to do.
The experience here, he said, will "make me hungry".
"If I can run out here with the big dogs, college should be a cakewalk for me. It's going to be a good year next year, so I'm blessed to be here."