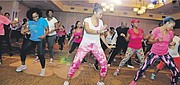 More than 200 participants recently came out to jump, wave and work up a sweat while raising money for cancer research and awareness.
Cancer survivors, fitness enthusiasts and supporters filled the Meliá Nassau Beach Resort's ballroom for the CIBC FirstCaribbean "Soca for the Cure" fitness fundraiser – the first in a series of activities leading up to the annual Walk for the Cure.
Renowned fitness instructor Macumbla "Comby" Smith of Caribbean Sweat Fitness led the group in an exciting "socaerobics" workout. The "feting" was punctuated with performances by local artists Bodine Johnson, Wendi Lewis and Dyson Knight, who rocked the crowd between aerobic sets.
Soca enthusiast Sarsha Taylor said she couldn't think of a better way to support a great cause. "The event was amazing. The energy was crazy. I am looking forward to many more events like this," she said. "I am a part of Comby's Caribbean Sweat Fitness group, so I wanted to support (this). I have had friends that have been affected by cancer and it touched their whole families. I do whatever I can to support this cause; if cancer touches one of us it touches all of us."
The Bahamas Cancer Society, which has received proceeds from Walk for the Cure for the past five years, was present to distribute information about cancer detection and prevention.
"The Cancer Society has been partnering with Walk for the Cure since its inception, and CIBC FirstCaribbean has been a donor for much longer," said Patrice Adderley, Bahamas Cancer Society member. "We know partnership is needed for the fight against cancer so we are delighted to come to events like this to raise awareness."
Several members of the local business community provided in-kind donations that helped to make the event possible. The D'Albenas Agency provided healthy snacks and representatives of Caribbean Bottling Company were on-site giving Dasani water and PowerAde to participants.
"We partnered with CIBC FirstCaribbean's Walk for the Cure last year and it was very successful. We are looking forward to the event again this year," said Sasha Pratt, marketing coordinator for Caribbean Bottling Company. "We love to help out whenever we can so we came on board very quickly when we heard about the Soca for the Cure."
The Meliá donated the space for the event.
Latoya Hanna-Moxey, senior sales and marketing manager, said: "We have a few co-workers at Meliá Nassau Beach All-Inclusive who have been affected by the disease so this is our way of showing that we care. There's room for all of us to be a part of assisting this cause."
Maya Nottage, marketing manager at CIBC FirstCaribbean, expressed the bank's appreciation for all of the support that it received.
"This was really a community effort. We're extremely grateful to all of our corporate partners who so generously donated their products and services to make this event a success. We're also grateful to Comby and the dynamic Caribbean Sweat Fitness team for helping us to create such a unique fundraising experience. People are already asking us when we'll host the next one," she said.
Other sponsors and donors for the event included the Sports Centre, BTC, British Colonial Hilton, Master Creation Signs and Graphics, Phat Groove Eblast Marketing, Lighting Audiovisual, Print Masters, The Nassau Guardian, The Tribune Media Group, and Anudda Production.
This event marks the start of CIBC FirstCaribbean's Walk for the Cure fundraising season which leads up to the bank's regional fundraiser, The Walk for the Cure, on October 2. This will be the fifth year that CIBC FirstCaribbean hosts the fun run walk. Last year, 1,000 participants registered for the Walk in the Bahamas and over $77,000 were donated to eight local cancer charities.