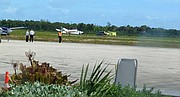 By DENISE MAYCOCK
Tribune Freeport Reporter
dmaycock@tribunemedia.net
A Flamingo Air plane crash landed at the airport in South Bimini on Monday afternoon after the wheel under the right wing collapsed, The Tribune was told.
The plane, a blue and white Flamingo Air Beech 99, had departed Grand Bahama and was in the process of landing when the incident occurred. No one was hurt, but the plane had minor damage.
Minister of Transport and Aviation Glenys Hanna Martin gave the House of Assembly a preliminary report about the crash Monday evening.
"At about 3.51 today, air traffic services advised that a Flamingo Airline aircraft en route from Freeport to Bimini with 15 persons on board had cause to crash land on the runway in Bimini," she said.
However, a police report issued by Inspector Terecita Pinder last night said 19 persons, including the pilot, were on board the plane.
Mrs Hanna Martin said the Bimini airport had been temporarily closed due to the incident.
Fire Services responded to the crash and police with the Department of Civil Aviation are investigating the incident.