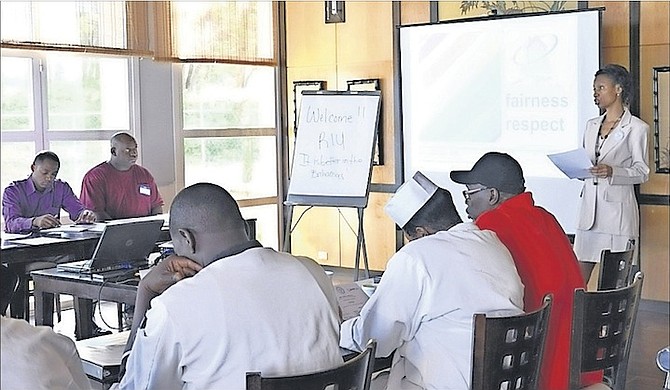 There are many local organisations dedicated to various causes whose presence sometimes flies under the radar.
The role that many of these organisations play are vital in helping improve the quality of life for Bahamians. 
One such organisation is the Bahamas Family Planning Association, which has been drawing community attention to the relationship between family planning and economic stability.
The association operates the Bahamas Family Planning Clinic, a nonprofit clinic, and the only one of its kind in New Providence.
The Bahamas Sexual Health and Rights Association – the advocacy and education arm of the organisation – is made up of a council of members and is administered by a board of directors.
The association advocates for the reproductive health and rights of all Bahamians, and conducts workshops on matters such as contraception, sexual health, reproductive cancers, etcetera, for corporate and civic groups. 
Given the recent discussions regarding the need for family planning to be brought back to the forefront of public attention, Tribune Health is taking a closer look at the Bahamas Family Planning Association, its goals and the part it plays in meeting the needs of Bahamians. 
The beginning
Since April 13, 1984, the Bahamas Family Planning Association has operated the country's only charity medical health clinic.
With the original vision of its founders – Dr Bernard Nottage, Dr Sandra Dean-Patterson, Dr Timothy McCartney, Janet Bostwick, Rita Sands Spriggs, Beryl Higgs, Joan Hanna and others – the Association has had a long and successful history of leadership in the field of sexual and reproductive health and rights. 
When Dr Nottage initially proposed the idea of family planning to the Bahamian society, he was sternly admonished that "man should not cast thy seed upon the ground." While family planning services are now widely accepted and available in all community health clinics across our archipelago, there are still unmet needs for sexual and reproductive health. 
The non-profit clinic
As the country's only non-government, non-profit clinic, and as a member of the International Planned Parenthood Federation (IPPF), Bahamas Family Planning is in a unique position to offer comprehensive reproductive health services, including new-generation contraceptive methods, along with general family practice medical services.
Headed by a medical director, Dr Steven Rolle, the Bahamas Family Planning Clinic offers pap smears, HIV/AIDS testing and treatment and care, contraceptive services, including IUD insertions and removals, and general family medicine.
Both men and women, as well as college students are welcome.
The clinic is also proud to offer Jadelle implants, which are inserted just below the skin of the forearm, and offer protection for up to five years. 
Its mission is "to provide outstanding service, happy member experiences and comprehensive quality healthcare."
Sexual and
reproductive
health advocacy
Bahamas Family Planning is committed to working in partnership with the government and other community organisations. On March 21, 2016, at the Harry C Moore Library, the Bahamas Family Planning Association, under its Bahamas Sexual Health and Rights Section, along with the Student Affairs Division of the College of the Bahamas, hosted partners to a conclave to create a unified, national strategy for the reduction of teenage pregnancy. 
The partners analysed the CARICOM/UNFPA Framework for the Reduction of Adolescent Pregnancy in the Caribbean.
Under the leadership of its advocacy chairs Audrey Roberts and retired CARICOM Ambassador Leonard Archer, the association emphasised that sexual, reproductive and human rights should be the unifying theme of the collaboration amongst all stakeholders, as well as any national strategy.
Sexual and
reproductive
health education
Bahamas Family Planning maintains that youth should be equipped with age-specific knowledge that can help them to protect themselves when trusted adults are not around. 
During July, the association conducted its "Good Touch/Bad Touch" summer camp at Columbus Primary School in Centreville.
Executive Director Denise Curry and camp facilitators also assisted Urban Renewal and H M Police Force Summer Camps. More than 100 children learned to define appropriate touches and what to do when touched in body zones that are off-limits, except by trusted adults.
The organisation is now appealing for additional volunteers, especially mothers (both stay-at-home and working) to become trainers in the "Good Touch/Bad Touch" programme, and commit to teaching one session per week for eight weeks. 
Bahamas Family Planning said it considers the spirit of volunteerism to be central to achieving its mandate.
Teenagers and
adolescents
A flagship project of Bahamas Family Planning is its "Baby Can Wait" programme, which is an intervention for girls and young women, ages 15 to 24, at risk for premature parenthood and school/job performance failure. It employs a research-based curriculum which aims to counteract social and interpersonal forces that impede young women's personal development, by promoting emotionally safe settings within which participants can analyse life goals and choices. Groups of 12 participants meet weekly with a trained facilitator. If you wish to host a "Baby Can Wait" programme at your church or community organisation, please contact Bahamas Family Planning.
Conclusion
The Bahamas Family Planning Association said it applauds the efforts of the government in advancing many of the treaties that speak to reproductive and sexual health and rights, such as the UN Secretary-General's Global Strategy for Women's and Children's Health. However, progress has been uneven, with marginalised and underserved groups, making the least progress. It is crucial that no one be left behind, the association said.
According to Bahamas Family Planning, both government and civil society must work together to ensure that sexual and reproductive health information, education and services are available to all, and uphold this access as an inalienable human right. 
Interested persons can join the Bahamas Family Planning Association and to attend monthly meetings and lectures, receive a electronic newsletter, take part in socials and the Sexual and Reproductive Rights Advocate Honouree banquet, held at the end of each year, or to volunteer in an education programme for young people. 
For more information about Bahamas Family Planning, visit them at 37 East Avenue, Centreville, or call 325-1663, e-mail bfpa@batelnet.bs, or visit the website at www.mybashra.org.