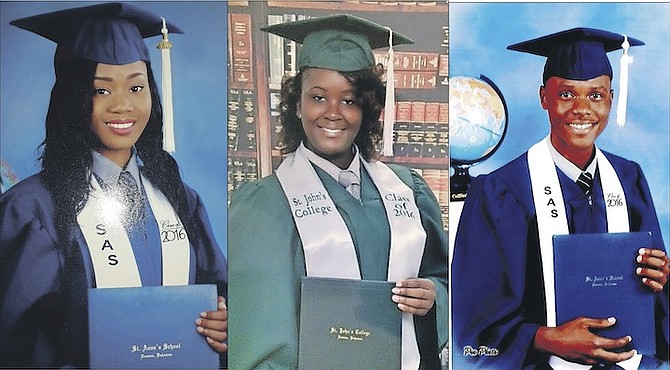 THE Tara Xavier Hepburn Foundation has proudly announced that three more Tara Scholars - Jeffon Stubbs, Demonica Brown and Eleanor Simmons - have successfully completed their high school education, each graduating with distinction.

Jeffon and Demonica studied at St Anne's School and Eleanor at St John's College. Jeffon served as head boy of St Anne's School and academic house captain. He was graduated first in his year with a 4.0 grade point average (GPA) and was once again named to the school's honour roll. Jeffon successfully passed eight subjects in the BGCSE examinations with seven As and one B. He also received an award from the Ministry of Education in January 2016 for best performance in his 2015 religious studies BGCSE examination.
Jeffon was the recipient of numerous other awards and prizes at St Anne's School's 2016 graduation ceremony, including subject prizes in chemistry, English, English literature, mathematics, physics, religious studies and Spanish. He was also the recipient of the William Edward Thompson Memorial Prize and was named the 2016 Honour's Day Convocation valedictorian by Alpha Phi Alpha Fraternity.
Jeffon was very active in extra-curricular activities. He was a member of St Anne's school choir as tenor section leader and choir chaplain. He is a Gentlemen's Club 2016 graduate, and was third runner up in the club's speech competition. Among other accolades, he served as president of Achievers Association, the governing body of Junior Achievement, and was named most distinguished officer for the position of president and fifth runner up for overall most distinguished achiever. Jeffon is the recipient of a full Presidential Scholarship to Morgan State University in Baltimore, Maryland valued at over $120,000 through Junior Achievement. He is studying actuary science.
Demonica served as a prefect at St Anne's School.

She was named to the honour roll and was successful in eight subjects in the BGCSE examinations with two As, five Bs and one C. She received a number of prizes and awards at her high school graduation, including the merit prize, and subject prizes in mathematics, office procedures and religious studies.

Demonica was also involved in the Junior Achievement programme at St Anne's and served as secretary of the Science Club and public relations officer of the Interact Club.
She is the recipient of two Junior Achievement scholarships, an $8,750 renewable scholarship for SUNY Oswego in Up-State New York and a $16,000 renewable scholarship for Middle Tennessee State. She has been accepted by University of Prince Edward Island and Acadia University in Canada. However, Demonica plans to pursue a degree in biology at The College Of The Bahamas first. Her long-term goal is to become a veterinarian, which she plans to pursue at a Canadian University once she completes her studies at COB.
Eleanor was a student leader at St John's College for the academic year 2015-2016, serving as a prefect. She was successful in nine subjects in the BGCSE examinations with one A, four Bs and four Cs. She was graduated ninth in a class of 71 and received the subject prize in bookkeeping and accounts and the proficiency and distinction awards. Eleanor played high school basketball was a member of the Debutante Foundation, Student Christian Movement, and the Royal Bahamas Defence Force Rangers Technical Cadets programme. She is the recipient of a bursary scholarship to attend COB where she plans to study financial accounting with a minor in technology.
The Tara Xavier Hepburn Foundation was launched on December 29, 2006 to celebrate the life of an exceptional young Bahamian. The foundation is dedicated to the holistic development of young people by empowering them to achieve a positive sense of self and to realise their full potential as productive, responsible and contributing citizens. A key goal of the foundation is to encourage young Bahamians to take maximum responsibility for improving themselves and it is clear from their achievements both in the classroom and outside that the Tara Xavier Hepburn scholars are doing just that.
The scholarship fund is made possible by the generosity of many donors, including Lyndhurst Limited, Patricia Vouch, Giovanna Knowles, Richard Campbell Limited, Dr Livingston Marshall and the Anglican Central Education Authority.