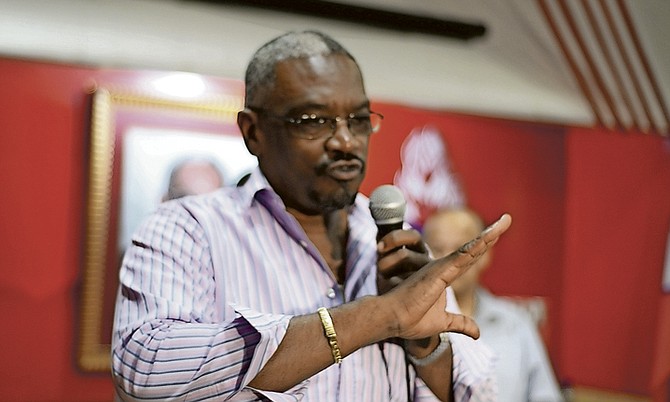 By KHRISNA VIRGIL
Tribune Staff Reporter
kvirgil@tribunemedia.net
IN A potential power move, several key members of the Free National Movement's (FNM) Finance Committee have reportedly indicated that they are no longer willing to remain among the body of party members tasked with ensuring the organisation has the funds required to co-ordinate a successful 2017 election campaign, The Tribune understands.
While their motives are unclear, sources within the party told this newspaper on Friday that some Finance Committee members remain dissatisfied with the leadership of FNM Leader Dr Hubert Minnis.
The reported mass abandoning of the FNM's finance team is said to have taken place at its luncheon on Thursday.
"They told Dr Minnis before the convention to step down because to them he doesn't have the wherewithal," an FNM insider said. "They also said if you came out the convention as the leader we will not support you. So it was no surprise last night that there are those of them who said they did not want to carry on."
This comes three weeks after a tumultuous FNM convention in which Dr Minnis again emerged as party leader after former challenger, Long Island MP Loretta Butler-Turner, dropped out of the race before delegates cast ballots.
It further confirms speculation that the party remains disjointed following the convention, despite calls by party executives for unity.
However, when asked about these reports, former Deputy Prime Minister Brent Symonette denied that the party's finance committee resigned at their luncheon meeting on Thursday. Mr Symonette has been a member of the committee for about 40 years.
Although he said this was not true, Mr Symonette did suggest that at Thursday's meeting, as some members had been on the committee for so many years, they should give Dr Minnis a chance to select his own committee.
"He should have the unfettered right," said Mr Symonette, "to invite persons he feels would be able to collect party funds to join the committee." 
Mr Symonette, who once quipped that "once an FNM, always an FNM", added that if called upon to do so he would always help the party, and, if invited, might consider serving again on the finance committee.
Meanwhile, another FNM supporter suggested that Mr Symonette was simply trying to "save face" in attempt to save the party from a potential public relations disaster.
The insider insisted that the party was facing "serious problems" if it could not procure the campaign funding needed to challenge the governing Progressive Liberal Party with the general elections eight months away.