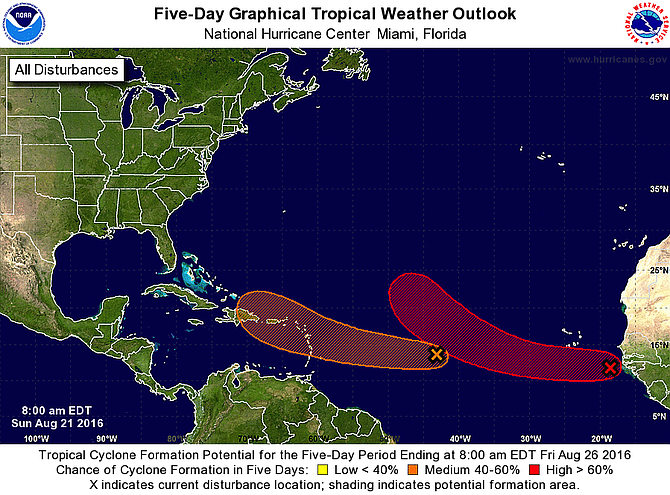 WHILE Tropical Storm Fiona was expected to be downgraded to a depression on Sunday night as it moved northwest in the central Atlantic, the National Hurricane Centre (NHC) in Miami is monitoring two tropical 'waves' in the eastern Atlantic that show signs of potential development this week. One of them could affect the southeastern Bahamas and the Caribbean, according to forecasters.
The NHC reported on Sunday afternoon that an area of disorganised showers and thunderstorms associated with a tropical wave is located about 1,100 miles east of the Lesser Antilles.
"The proximity of this system to dry air is expected to inhibit significant development during the next few days while the disturbance moves westward to west-northwestward at 15 to 20mph," the NHC reported. "Environmental conditions could become more conducive for development late this week when the system is expected to be near Hispaniola and the southeastern Bahamas. Moisture associated with this system is expected to reach the Leeward Islands and part of the Windward Islands by Tuesday evening or night."
The NHC put the chance of a tropical storm forming over the next 48 hours at low (10 per cent) and a medium (40 per cent) over the next five days.
It also reported an area of cloudiness and thunderstorms over the far eastern Atlantic 200 miles south east of the Cape Verde Islands associated with a low pressure area and tropical wave that has moved off the west coast of Africa. Environmental conditions are expected to be conducive for development, and a tropical depression is likely to form during the next couple of days while the system moves westward and then northwestward over the eastern tropical Atlantic Ocean, the NHC said.
Chances of storm formation are said to be high, at 70 per cent over the next 48 hours and 90 per cent through five days.
Tropical Storm Fiona was located about 590 miles east-northeast of the Leeward Islands on Sunday afternoon. It had been moving to the west-northwest at 14mph, with maximum sustained winds of 40mph, making it barely a tropical storm, and the NHC said it was expected to be torn apart by wind shear and also had dry air in its path towards Bermuda. Fiona is the sixth named storm of the 2016 Atlantic season and one of the weakest.