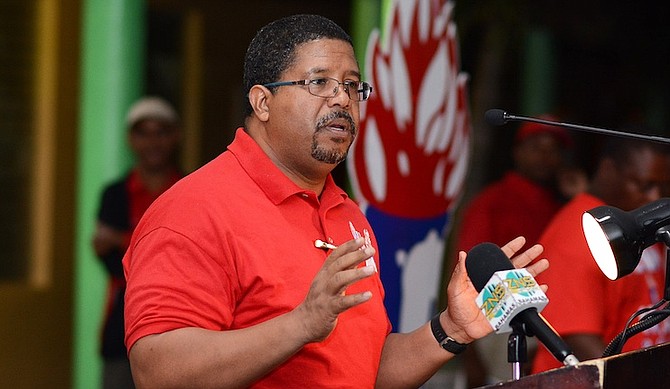 By RASHAD ROLLE
Tribune Staff Reporter
rrolle@tribunemedia.net
FREE National Movement Deputy Leader Peter Turnquest renewed calls yesterday for the Christie administration to fully disclose the letter of intent controversy that ensnared Bamboo Town MP Renward Wells and contributed to his decision to leave the Progressive Liberal Party.
His comments come as recent revelations raise questions about whether certain government members were aware of the document before Mr Wells signed it.
Tribune Business reported on Friday that key Christie administration figures knew in advance that the government was set to issue the Letter of Intent (LOI).
In a letter dated May 26, 2014, State Minister for Finance Michael Halkitis informed a representative of the Inter-American Development Bank (IDB) that the government had issued an initial LOI to Stellar Energy. The company had proposed to establish a $600 million 70-80 megawatt waste-to-energy plant that was to be located at the New Providence landfill on Tonique Williams Highway.
Mr Halkitis' letter was dated about five weeks before Mr Wells signed the LOI with the company.
Mr Wells has said he took responsibility for the controversy because he signed the document without "written approval".
In a statement released Friday, Mr Halkitis said Tribune Business' report intermingled various "portions of correspondence" to "create the impression of something untoward" on his part.
He said the letter he sent to the IDB representative was "to request a meeting between Stellar Energy and representatives of the IDB."
Nonetheless, Mr Turnquest said the revelation proves that there are still details about the LOI matter that remain unknown.
He recalled that FNM Leader Dr Hubert Minnis once requested a statement from Attorney General Allyson Maynard-Gibson about the matter, but none ever came.
"There had to be more to the story that just Renward Wells," he said. "The recent revelation proves the fact that Cabinet was aware. As to details of that, I don't know but the government has the obligation to disclose and to be clear. Dr Minnis called for an investigation into that and nothing has changed in that regard. People believe that because Wells is now an FNM something has changed but that's not the case. If there is wrongdoing it should be uncovered and disclosed. It's obvious government knows more and knew more than they have said and that they have a duty to say."
In October 2014, Prime Minister Perry Christie fired Mr Wells from his post as parliamentary secretary in the Ministry of Works and Urban Development following months of controversy sparked by his reportedly unauthorised signature on the $600 million LOI in July 2014.
Several times since the incident became public, reference was made to a probe into the matter. The results of that investigation have not been made public, although government officials have said it was complete.
In November 2014, Mr Wells broke his silence and said he signed the LOI – without Cabinet approval – for the "good of the people."
In January 2015, he told the House of Assembly that he signed the LOI with Stellar Waste to Energy Bahamas in order for the company "to carry out studies" free of charge to present to Cabinet.
In November 2015, Mr Wells announced in Parliament that he had quit the PLP before crossing the floor to join the Official Opposition.