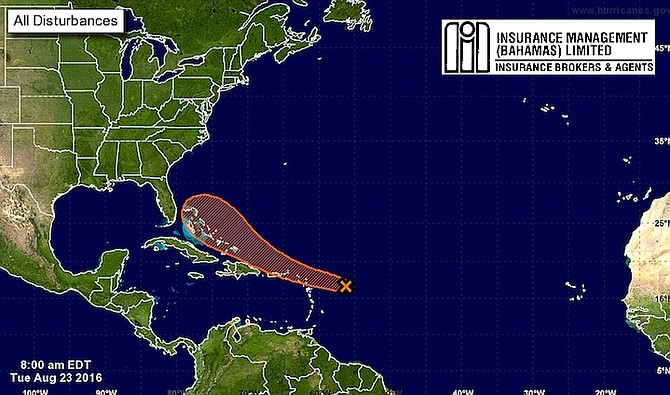 By NICO SCAVELLA
Tribune Staff Reporter
nscavella@tribunemedia.net
THE National Emergency Management Agency (NEMA) has cautioned the public to "remain in a state of readiness" heading into the peak of this year's Atlantic hurricane season, with international weather agencies warning that this could be the "most active" season in almost five years.
NEMA Director Captain Stephen Russell called on Bahamians far and wide to "monitor the movement of all of the storm systems, and to "finalise plans for the remainder of the hurricane season in order to safeguard lives and protect properties".
Capt Russell said in a statement on Tuesday that people should remain vigilant, particularly throughout September and October, which he said is "peak season for storms". He also urged residents to check weather forecasts regularly for alerts and to ensure that their "homes meet building codes withstanding hurricane, and they have storm shutters".
Capt Russell's comments came as international weather outlets reported that Tropical Storm Gaston, which developed as the seventh named storm of the season on Monday night, is expected to become a hurricane by Wednesday.
The US National Hurricane Centre (HNHC) in Miami reported on Tuesday morning that Gaston is gaining strength as it moves over the far eastern Atlantic, with its maximum sustained winds increasing to nearly 50mph).

Gaston was centred about 545 miles west of the southernmost Cape Verde Islands on Tuesday morning and is moving west-northwest near 20mph.
The NHC, meanwhile, said it is watching a "large area of disorganised showers and thunderstorms" a few hundred miles east of the Leeward Islands associated with a tropical wave. Forecasters said "large-scale conditions" could become more conducive later this week while the system moves near Hispaniola and then the southeastern and central Bahamas.
The NHC similarly urged "islands of the northeastern Caribbean Sea to the Bahamas" to monitor the progress of the system, adding that gusty winds, heavy rains, possible flash floods and mud slides could occur over these areas "regardless of tropical cyclone formation".
The NHC said it estimates the chance of cyclone formation as "medium" - 50 per cent over the next 48 hours and 60 per cent over the next five days.
Additionally, the National Oceanic and Atmospheric Administration (NOAA) revised its predictions for the 2016 Atlantic hurricane season, saying this year could be the most active since 2012. Those predictions are a 70 per cent chance of 12 to 17 named storms forming, and the potential for two to four major hurricanes, according to reports.
"At this time, weather experts are monitoring a number of systems in the Atlantic, and one is anticipated to pass very close to our chain of islands by this weekend," Capt Russell said. "Although not a named system at this time, we saw where Hurricane Joaquin last year rapidly intensified while almost stationary off the central and southeastern Bahamas.
"Therefore, we are urging all to continue to monitor the movement of all the systems, and to finalise plans for the remainder of the hurricane season in order to safeguard lives and protect properties."
The 2016 named storms are Alex, Bonnie, Colin, Danielle, Earl, Fiona, Gaston, Hermine, Ian, Julia, Karl, Lisa, Matthew, Nicole, Otto, Paula, Richard, Shary, Tobias, Virginie, and Walter, according to NEMA.
Elsewhere in the Atlantic, Fiona is "barely maintaining" its status as a tropical depression, with its maximum sustained winds near 35mph. The depression, which is expected to become a "remnant low" in the next few days, is centred about 455 miles south of Bermuda and is moving west-northwest near 13mph.
Last October, Hurricane Joaquin hammered the central and southern Bahamas after it strengthened into a Category 4 storm. The slow moving storm left devastation in Long Island, Acklins, Crooked Island, San Salvador and Rum Cay in particular, destroying homes and buildings with strong winds and heavy flooding.
The hurricane season runs from June 1 to November 30, with the peak period from September through to the end of October, according to experts.