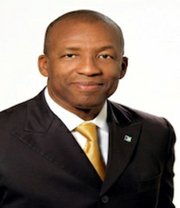 By AVA TURNQUEST
Tribune Chief Reporter
aturnquest@tribunemedia.net
PROGRESSIVE Liberal Party stalwart councillors are dissatisfied with being treated merely as tools to maintain Prime Minister Perry Christie's incumbency, only to be discarded and excluded after convention, according to party leader hopeful Alfred Sears.
However, this claim was shot down by PLP Trustee Valentine Grimes, who yesterday said that while he was surprised by the suggestion, it could not be further from the truth.
Mr Sears pointed to deep concerns among councillors and branch delegates over the lack of accountability from party leadership to members as he outlined plans to re-infuse the party with "servant leadership" in a recent interview.
Underscoring the sense of alienation he has encountered as he canvasses party members throughout the country, Mr Sears added that the positive feedback since launching his campaign has exceeded his expectations.
"The delegates are concerned that the party in between conventions really has very little contact with stalwart councillors," he said.
"The party has no organised political education, no newsletters which keep stalwart councillors informed, no regular meetings to discuss policies of the party. And there is a sense as I speak to stalwarts that they are only called upon by the leadership of the party, which is now within seven years, when there is a need for people to vote and support the incumbency."
Mr Sears added: "There is a deep concern of this practice, for seven years in succession, where the stalwart councillors and delegates from branches have not had the opportunity to review the performance of the party, to have the opportunity to amend the constitution. And also to be denied the most fundamental right that a member of the party has, which the constitution says that all the positions of leadership should become vacant each year."
"So when as I tour and I listen to the stalwarts," he said, "we need to re-infuse the party with what I call a servant leadership that's serving the members. Not just calling upon the members when you need them to maintain the incumbency, but to provide ongoing service to allow stalwart councillors to have a voice in the conduct of the party, to shift the party into a more progressive and liberal party."
Mr Sears said: "The supreme organ of the party has not met in seven years. It is the supreme organ where every branch has delegates, stalwart councillors on various islands and do not have regular contact with their government that's all based here in New Providence. What I am getting is this deep concern, this sense of alienation, this sense of 'they only know me when they need me.' As great a party as the PLP, this is very unfortunate. There is a need to infuse with sense of accountability to members and the stalwart councillors."
Yesterday Mr Grimes, also a stalwart councillor, pushed back against assertions that appointed members were being taken for granted.
He acknowledged that a national convention has been long overdue, stating that while it was a costly exercise, he would never try to make an excuse for the lengthy delay. The PLP has not held a convention since 2009.
"The stalwart councillors are an important part of our organisation," Mr Grimes said.
"They are made up of men and women throughout the length and breadth of the country. Those persons have historically played a very important role in the successes of the PLP. I know from where I sit, both as a trustee and organiser of the elections, that they continue to play a very important role in what we do.
"To say they're being taken for granted, I've never seen any evidence of it.
"I'm surprised that that is being suggested because Prime Minister Christie would not have been involved in the appointment of most of these councillors. There is a committee. Every member of Parliament has the ability to recommend persons for appointment and most have, including the former MP for Fort Charlotte Alfred Sears. It is a very important part of the political machinery, why our party is in some ways unique."
Speaking to the concerns raised by Mr Sears, Mr Grimes said that the party has religiously held monthly council meetings, and that the various branches were also encouraged to do the same.
He revealed that the party's constitution committee has been working on amendments that will go to council first for approval, and then ultimately be voted on at convention. Mr Grimes also pointed to the party's website, however he noted that he could not speak to its upkeep.
"We do have a vibrant party, I'm happy to have been a part of it for many years. Could there be more done, the answer is always yes. I'm satisfied our chairman and secretary general do an excellent job of communicating."
Mr Grimes said that it went without question that he strongly supported Mr Christie's leadership; however, he was quick to point out that as an organiser for the elections at convention, he was also a strong advocate for the right to challenge any position within the party.
"I think under the circumstances he (Mr Christie) has done an excellent job. The time will come when leadership will change, whether now is the right time that's a different story but everyone has a right to run. I think it's important that anybody's right to run is protected," Mr Grimes said.
"I'm one of the persons responsible for elections, I protect everyone's right to free and fair elections. I unequivocally support the leadership of Perry Gladstone Christie, and I unequivocally support the right of anyone to run for any position within the party."