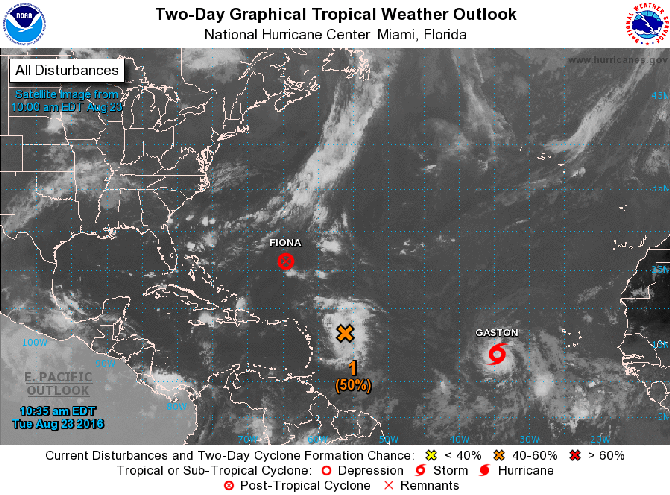 1.00pm UPDATE: The Met Office has released a statement this afternoon on the tropical wave which could become a cyclone: "A strong tropical wave located a few hundred miles east of the Leeward Islands has a 50% chance of becoming a tropical cyclone through Thursday. However, regardless of tropical cyclone formation gusty winds and heavy rains are highly likely to accompany this system, beginning Thursday morning, and could result in severe flooding over the Turks and Caicos Islands and the Southeast Bahamas which includes Long Island, Ragged Island, Acklins, Crooked Island, Mayaguana and Inagua. Residents on these islands should monitor the system and be prepared to take quick and necessary actions to minimize possible flood damage. Drainage Systems should be cleared of ALL debris between now and Thursday to maximize the free run-off of rain-water."
TROPICAL Storm Gaston is getting stronger as it moves over the far eastern Atlantic and is expected to become a hurricane by Wednesday, according to US National Hurricane Centre (NHC) forecasters.
The storm's maximum sustained winds had increased early on Tuesday to near 50mph after strengthening late on Monday night. The NHC says additional strengthening is forecast.
Gaston, the seventh named storm of the 2016 Atlantic season, is centred about 545 miles west of the southernmost Cape Verde Islands and is moving west-northwest near 20mph.
The NHC is also watching closely a large area of disorganised showers and thunderstorms a few hundred miles east of the Leeward Islands associated with a tropical wave which could develop in the next couple of days and affect parts of the Bahamas.
The NHC reported on Tuesday morning that environmental conditions" are somewhat conducive for development of this system during the next couple of days while it moves west-northwestward at 15 to 20mph near the northern Leeward Island and the Greater Antilles".
The NHC said conditions could become more conducive later this week while the system moves near Hispaniola and then the southeastern and central Bahamas. A US Air Force Reserve Hurricane Hunter aircraft is scheduled to investigate this disturbance on Tuesday morning.
Islands of the northeastern Caribbean Sea to the Bahamas are advised to monitor the progress of this system, the NHC said. Gusty winds, heavy rains, and possible flash floods and mud slides could occur over these areas regardless of tropical cyclone formation.
The NHC estimates the chance of cyclone formation as "medium", 50 per cent over the next 48 hours and 60 per cent over the next five days.
Elsewhere in the Atlantic, Fiona is barely maintaining its status as a tropical depression. Fiona's maximum sustained winds are near 35mph. The depression, which is expected to become a remnant low in the next few days, is centred about 455 miles south of Bermuda and is moving west-northwest near 13mph.