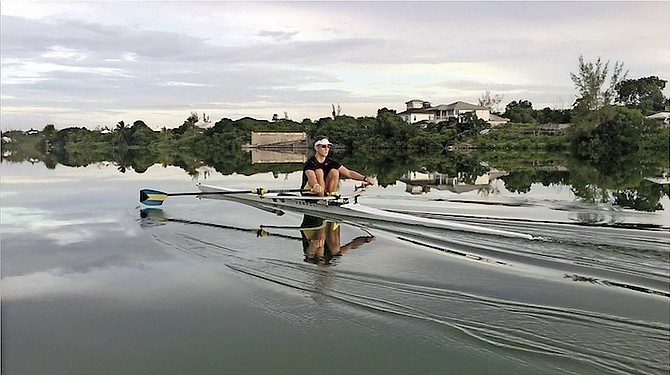 WITH the Olympic Games in Rio de Janeiro, Brazil, over and done with, another athlete is ready to represent the Bahamas abroad.
Eighteen-year-old William Stanhope, of Nassau, arrived in Rotterdam, The Netherlands, last week to prepare for racing at the 2016 World Rowing Junior Championships.
William is slated to race in the heats of the Junior Men's Single Sculls on Wednesday at 11:50 am CEST or 5:50am EST against the United States, Uzbekistan, Denmark, Italy, and Hungary.
Stanhope, who alongside Lex Fountain represented The Bahamas for the first time ever in the sport of rowing at the Junior Championships last year in Rio De Janeiro, Brazil, will compete in the Junior Men's Single Sculls event.
"I am so glad to be rowing for The Bahamas for the second year in a row at the international level," said Stanhope.
"The support from The Bahamas Olympic Committee has been tremendous and had been instrumental in allowing me to raise awareness of the sport back home."
Awareness of the sport is certainly something that is mounting.
Earlier this month, rowing was represented for the first time at the Olympic Games by Emily Morley, 22, who competed in the Women's Single Sculls in Rio De Janeiro.
Morley, who like Stanhope is a member of the Nassau Rowing Club, looks forward to a bright future.
"It is so exciting to see younger rowers from The Bahamas compete at a higher level. I hope this is only the beginning of putting the country on the map for the sport of rowing."
Thomas Dunn, interim president of the Nassau Rowing Club, is also hopeful.
"All of us at the Nassau Rowing Club are incredibly proud of William, [his trip] is a testament to his hard work and dedication to this great sport.
"Hopefully, William's achievements provide a stepping stone in the continued growth of rowing here in The Bahamas."
On an Olympic year, FISA, the world governing body for the sport of rowing, hosts its Senior and Junior World Championships in the same location.
This year, FISA placed the Under-23 championships in the same location as well. Combined, these events will create the largest FISA event ever held.
"We really look forward to representing the Bahamas at such a large event," said coach and team manager Joe Mallen.
"We hope that through our performance here that we can further establish the Bahamas as a yearly participant in the World Rowing Championships in all categories."
The Junior World Championship part of the regatta features nearly 800 athletes from 59 different nations and is the largest event in its 49 year-old history.