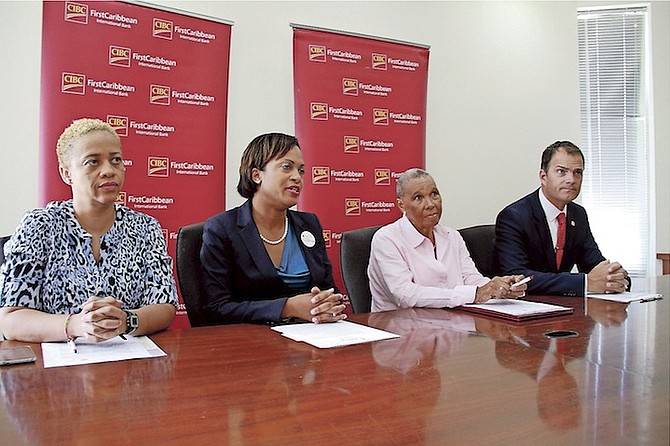 THE regional CIBC FirstCaribbean cancer fundraiser that brought over 10,000 participants together in 17 countries last year returns to The Bahamas in October, it was announced yesterday.
The bank's annual Walk for the Cure, held in each of the Caribbean countries in which it operates, will host its fifth consecutive walk events in Abaco, Eleuthera and Grand Bahama on Saturday, October 1, and in New Providence the following day. Proceeds from the event and all related fundraisers will be divided amongst local cancer support organisations.
As in previous years, the Walk for the Cure campaign is being launched ahead of the final event. Several fundraising and awareness activities are being held across The Bahamas between now and October.
Last month, CIBC FirstCaribbean hosted its first annual Soca for the Cure fitness party as an unofficial launch of its fundraising activities, bringing together over 200 fitness fans, cancer survivors, and other supporters to sweat for a cause. The bank will also host its second annual Combat Cancer Challenge with renowned local fitness instructor, Natasha Brown of Ultimate U Fitness and Wellness Center, in September.
Andrea Sweeting, President of recipient organisation Sister, Sister Breast Cancer Support Group, said that the event has made a positive impact on her organisation and its members. "For me and my sisters, we have truly benefitted from what we have received from this organisation over the years," she said. "We want CIBC FirstCaribbean and sponsors to know how thankful we are, we could not have done it without you."
Marie Rodland-Allen, Managing Director of CIBC FirstCaribbean Bahamas, said that bank hopes to make a difference in the lives of those affected by cancer through the Walk for the Cure initiative. "The goal of the Walk for the Cure is to increase awareness," she said. "We know the depth and wrath of cancer in The Bahamas and we know that education and early detection helps with increasing survival rates. Our aim is to fundraise for prevention, diagnosis, and treatments for all types of cancer and all Bahamians.
"We are excited about this year's walk. For the second time, we have extended the walk to the Family Islands with walks in Grand Bahama, Abaco and Eleuthera. We are proud of our successes over the last few years. We raised $400,000 regionally last year, with Bahamas raising a whopping $77,000 with about 500 participants. This year we are looking to redouble those efforts. We are calling out to our employees, partners, the public and our corporate sponsors who have been fantastic in supporting us and making this initiative as successful as it is."
Trevor Torzsas, Managing Director of Customer Relationship Management and Strategy, said that with the assistance of sponsors, he hopes that this year's Walk can double last year's numbers. "We expect to have over 1,000 walkers across the Bahamas and over 20,000 walkers across the Caribbean," he said. "We are now over $1 million raised across the Caribbean since inception. And thus far this year, Bahamas has already raised $50,000, with six weeks left until the walk."
Those interested in participating in the event or sponsoring the walk should visit their nearest CIBC FirstCaribbean branch, www.cibcfcibwalkforthecure.com or call Maya Nottage or Duquesa Dean at 302-6063 or 302-6075, respectively, for more information. Early registration is $15 per adult and $12 per child aged 12 and under until August 31. After that date, the registration fees will be increased to $20 and $15 respectively.
For the third consecutive year, the bank has invited the local corporate community to participate by sponsoring the event. Last year, more than 35 corporate sponsors helped to raise a record-breaking $77,000 in The Bahamas.
Thus far, this year's sponsors include Aetos Holdings, BTC Business, Caribbean Bottling Company, VISA International, Sandals Resorts International, Mayer Brown, Guardsman Group, Melia Nassau Beach All-Inclusive Resort, Graham Thompson & Co, British Colonial Hilton, Bahamas Electricity Corporation, Quality Home Centre, Damianos Sotheby's International Realty, Sapodilla Estate, McKinney, Bancroft & Hughes, Going Places Travel, ITEL BPO Solutions, Rubis Bahamas, Bill Simmons Construction, TriPoint Communications, Atlantic Medical Insurance, Wemco Security, Family Medicine Centre, Colina Insurance Ltd, First Atlantic Commerce, and Tata Consultancy Services.