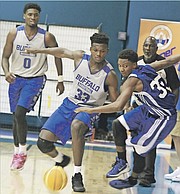 By Buffalo Bulls Athletics
AFTER two victories in Canada over the weekend, the University at Buffalo men's basketball team moved its foreign tour south to the Bahamas. 
The Bulls played their first of two games in the Bahamas on Tuesday evening with an 81-67 victory over the College of the Bahamas.
Playing their third straight game under International FIBA rules, the Bulls played in a four-quarter format.
UB made its biggest run in the game in the first quarter as it took an early 7-4 deficit and went on a 19-2 run to end the quarter as a Blake Hamilton three pointer at the buzzer gave the Bulls a 23-9 lead after the first.
The Bulls continued to extend their lead in the second quarter as a couple of  CJ Massinburg  three pointers helped UB take a 41-23 lead into the half.
The Bulls remained ahead by 18 after the third quarter, but UB was outscored in the fourth quarter 25-21.  However, UB still won the game comfortably, 81-67.
Massinburg led the Bulls with 16 points and four assists, while sophomore Nick Perkins added 13 points and 11 rebounds. 
Senior Blake Hamilton  finished with 11 points before fouling out.
Freshman Quate McKinzie picked up the start tonight and had nine points and a game-high 15 rebounds.  Senior Raheem Johnson  added eight points and eight rebounds and redshirt sophomore Dontay Caruthers finished the night with eight points, six assists and six rebounds.
As a team, the Bulls nearly doubled up the College of the Bahamas on the glass, 62-35.  The teams went to the free throw line a combined 82 times on the evening.
The Bulls will conclude their trip this evening when they play the Real Deal Shockers at 9pm.