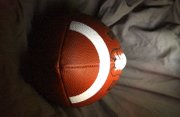 By RENALDO DORSETT
Sports Reporter
rdorsett@tribunemedia.net
THIS weekend represents a pivotal game for Alex Cooper as he fights for a roster spot with the Cincinnati Bengals this NFL preseason.
The Bengals are slated to face Jacksonville Jaguars at 8pm this Sunday (August 28) in week three of the preseason and Cooper hopes to survive the first round of roster cuts.
NFL teams usually trim their rosters from 90 to 75 following the third preseason game with the deadline to make such cuts at 4pm on Tuesday, August 30.
After the fourth preseason game, teams will make the second round of cuts as the roster limit decreases to the regular season 53-man roster limit at 4pm on September 3.
Starting on September 4, after the released players have cleared waivers, teams will be allowed to form 10-man practice squads.
The regular season is scheduled to begin on Thursday, September 8, with the majority of Week 1 being played on Sunday, September 11.
Cooper will have to make an impression against the Jaguars and play well to draw the attention of the coaching staff in order to remain on the roster.
In their preseason debut, the Bengals fell 17-16 at home against the Minnesota Vikings, followed by a 30-14 win on the road in week two over the Lions.
Paul Dehner J of the Cincinnati Enquirer projects Cooper as one of three offensive linemen "on the outside looking in," not expected to make the final 53-man roster.
Heading into camp, the Bengals fielded 14 offensive linemen, making for a competitive finish for a final roster spot.
Cooper was signed  as an undrafted free agent in May because of his versatility on the offensive line and that characteristic was on display immediately during his first appearance with the team. He participated in Bengals rookie-mini camp and immediately put that versatility on display.
"Bengals' offensive coach Paul Alexander loves tough players, and Cooper fits that bill very well. The team also loves picking up offensive linemen who are versatile enough to play any position. Cooper might not have any experience at centre, but he has enough experience at every other position on the offensive line that you probably wouldn't have to take too long teaching him that position. Given his lack of athleticism, they will probably want to take full advantage of his skill set as he competes for a spot on the roster or practice squad."
Cooper was one of 15 players signed as an undrafted college free agent by the Bengals following the completion of the NFL Draft. Undrafted players made up 29 per cent of NFL rosters last season and within the Bengals organisation, six players were undrafted free agents including All-Pro linebacker Vontaze Burfict.
Following his stellar senior season with the Houston Cougars, Cooper garnered the attention of several NFL teams, including the Houston Texans and the Oakland Raiders.