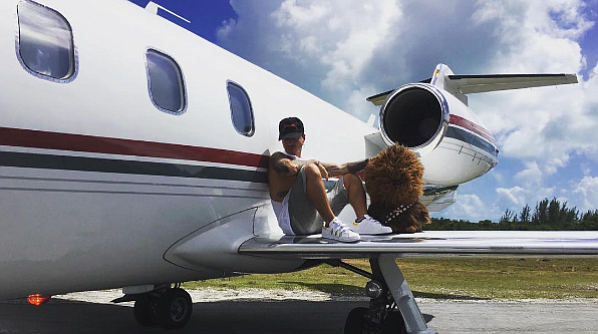 REGGAETON star J Balvin has escaped unscathed after the small private plane he was in crashed into bushes on takeoff from North Eleuthera airport on Friday.
The 31-year-old Colombian - real name Jose Osorio Balvin - thanked God for his survival after emerging uninjured as he was leaving the Bahamas. He posted a photograph of himself on Facebook sitting on the airplane's wing with a note in Spanish that said: "We're safe. God didn't want us to die today."
A spokesman for the artist said: "I can confirm that there was an incident with a small plane on which J Balvin was departing the Bahamas. J Balvin Is OK, sustaining no injuries, but we do not have any further details on exactly what happened with the flight at this time."
Earlier in the day, Balvin posted a photo on Facebook that showed the small plane embedded in bushes. Later, the picture was taken down from his Instagram. He also posted a photo on Instagram showing himself standing with his hands together in prayer at the end of a small jetty with his back to the turquoise sea and captioned it 'Resilience'.
Clearly nervous about flying after what happened, he wrote in Spanish alongside the snap: "The only way to overcome fears is to face them. God protects me."
Next month, J Balvin is scheduled to be honoured at the annual Hispanic Heritage Awards in Washington, DC. He will be presented with the Vision Award "for serving as a role model to youth while setting the music world on fire with his dynamic talents."