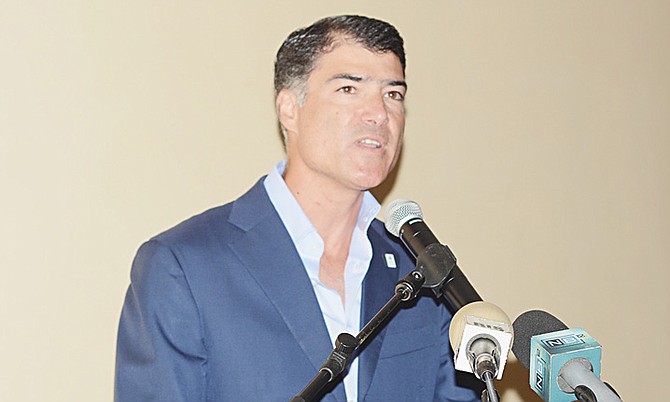 By TANEKA THOMPSON
Tribune News Editor
tmthompson@tribunemedia.net
SARKIS Izmirlian's company BMD Holdings has criticised the appointment of China Construction America (CCA) executive Tiger Wu to a committee that will oversee payments to Baha Mar creditors.
In a statement released hours after the government announced the formation of the committee, BMD Holdings alleged that Mr Wu has "engaged in documented questionable behaviour," adding that it was CCA that created the situation that led to Baha Mar's troubles. CCA is Baha Mar's general contractor.
"It is hard to understand how the best interests of unsecured creditors can be served by a committee that specifically includes the Chinese construction company CCA and its executive Tiger Wu," the statement said.
"This is the same CCA and Tiger Wu who failed to meet construction deadlines causing Baha Mar to not be completed and to not open. It is the same Tiger Wu who has engaged in documented questionable behaviour in the Bahamas. It is the same CCA that created a Baha Mar creditor situation in the first place. It is the same CCA that opposed the Chapter 11 filing and helped to stop the developer's reorganisation plan to pay Bahamians in full and complete Baha Mar with Bahamian contractors.
"And this is the same CCA and leadership which have been sued in various legal proceedings for failing to pay parties to whom CCA owes monies for its non-performance.
"CCA has proven itself to be a serial deceiver of the prime minister of the Bahamas and the Bahamian people. The unsecured creditors of Baha Mar have every reason to be wary and concerned about the credibility of this committee and its agenda."
Earlier on Sunday, the government announced that former Central Bank Governor James Smith; Grant Lyon, liquidation claims advisor to the government; Yanping Mo, representative of the Export-Import Bank of China; Norbert Chan, representative of court appointed receiver Deloitte & Touche and Mr Wu had been appointed to a committee to administer the claims of Bahamian and other creditors of the Baha Mar group of companies.
The government said it hoped that Bahamian employee claims would be settled no later than September 30 and that all other claims will be dealt with on or before December 31.
One day after the resort filed for Chapter 11 bankruptcy protection in a US court last year, Baha Mar Limited sued China State Construction Engineering Corporation Ltd - CCA's parent company - in the English High Court. The claim stemmed from what Baha Mar Ltd said were repeated delays that have caused the resort to miss its opening deadlines.
Mr Izmirlian, the resort's developer, has frequently blamed CCA for the repeated delays in the resort's opening. Baha Mar is currently in receivership.