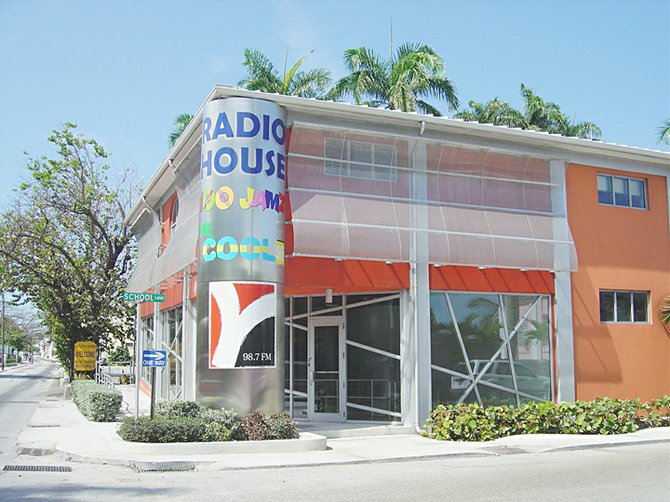 OVERCROWDING THE AIRWAVES
THERE were only 10 FM radio stations in operation in the Bahamas prior to the Utilities Regulation and Competition Authority (URCA) becoming the licensing authority and regulator for the FM radio broadcast market.
Today the Bahamas has 44 stations - more than London or New York, cities with massively larger populations. Babardos, a country with a slightly smaller population than the Bahamas, has just five stations.
Tribune Radio Ltd (TRL) said in its response to URCA's proposals that the market in the Bahamas is "oversaturated" and "completely unsustainable". It added: "If URCA focused on the 20 or more licensees that we have been informed are technically insolvent; revoke licensees that have not paid all of their fees as per the (Communications) Act, then there would be less intereference and lots of RF frequency.
"Many of the proposed changes contravene Bahamian broadcast law and the objectives set forth in the Communications Act and are detrimental to the interests of the Bahamian people," TRL added. "Implementation of the proposed standards will drastically reduce station reach and the quality of signal for the consumer, and carve the Bahamian listening market into very small, economically unsustainable 'mini' signals.
"The result will be that many licensees will go out of business, the quality of services to the public will deteriorate and there will be little sustainable competition.
"The simplest way to reduce interference would be to 'order' the newest stations off the air as it is clear there has been excessive licensing when compared to the population and the economic requirements of radio station operation," TRL said.
"Those stations that are insolvent and those that have been unable to pay broadcast fees, National Insurance payments and/or any other appropriate taxes, requirements and fees should have been removed from the airwaves years ago."
Tribune Radio Ltd (TRL) has hit out at the Utilities Regulation and Competition Authority (URCA), calling the agency's "excessive and ill-advised" issuance of over 40 FM broadcast licences and its subsequent plans for a retroactive shuffling of a station's position on the FM (frequency modulation) dial as an "outrageous and irrational abuse of power".

In a written response to URCA's proposal, TRL's Board lamented the licensing of such a huge number of entrants into the small Bahamian market whilst accusing the regulator of failing to take into account any economic justification or consideration as to the detrimental consequences that such actions would have on the country's entrepreneurs.

By the issuing of a consultation document entitled "Technical standards framework for FM radio broadcasting", URCA proposes to implement standardised channel spacing between FM broadcast frequencies to rectify its "actions in proliferating licences" - 37 issued between 2009 and 2013 - in addition to the 10 incumbents
In the document URCA outlines its intent to reduce "undesirable interference" in FM radio broadcasting by standardising the channel spacing of frequencies in the frequency modulation band, which URCA admits would likely result in a "migration of certain FM radio broadcast stations from the existing frequency from which they now broadcast/transmit". URCA says this was due in large measure to the "absence of established technical standards" for FM radio broadcasting specific to the Bahamas at the time when it was given responsibility for the FM broadcasting industry. URCA admits in its document to assigning frequencies to 37 FM radio broadcast stations between September, 2009, and May, 2013.
TRL Chairman Eileen Dupuch Carron and Tribune Media Group President, Robert Dupuch Carron, charged that URCA's ill-advised actions show a clear and unequivocal pattern of the regulator acting beyond its power, suggesting that it does not take a rocket scientist to figure out how to reduce interference and free up frequencies.
"Let's start by revoking those licences which are not on the air and taking those off the air who URCA knows full well haven't paid their National Insurance payments or broadcast fees in years," Mr Dupuch Carron said.
"Clearly, no government has ever considered issuing 44 mobile licences, 44 Cable companies, 44 Bahamasairs, 44 webshops, 44 casinos nor 44 BECs in our nation," he quipped. "Yet URCA has been quietly dishing out licences like confetti, since 2009."
TRL's official response to the regulator states: "Standardising future channel spacings makes a lot of sense. A retroactive reshuffling of stations to accommodate retroactive channel spacings does not make sense and fails to recognise a broadcaster's established real property right in relation to its frequency."
Mr Dupuch Carron said: "URCA seems unwilling to recognise that broadcasters have established legal precedents relating to the 'proprietary rights of their broadcast frequencies'. This also includes the expectation that any regulator would act in good faith and not take prejudicial actions which have carelessly already erased millions of dollars in shareholders equity; let alone now having to consider the effects of such actions on the branding, goodwill, imaging and on-going viability of many stations.

"URCA now wishes to add injury to insult, by unilaterally reducing a station's licensed transmitting power by 80 per cent! What this would mean is we couldn't even hear our station in our Radio House building on Shirley Street. All simply because URCA has issued licences to those who may not possess either the ability, resources or talents necessary to complete in a free market."
"Many of the proposed changes appear to contravene Bahamian broadcast law and the objectives set forth in the Communications Act," Mrs Dupuch Carron said. "They are detrimental to the interests of the Bahamian people, as the implementation of such unsound practices will only serve to drastically reduce a station's authorised power output, market reach, the quality of signal for the consumer, and carve the Bahamian listening market into very small, economically unsustainable 'mini' zones.
"Most regulatory bodies around the world, including the United Kingdom, Canada and the US," she explained, "have taken steps to protect legacy stations for a variety of reasons and established legal precedents. That is notwithstanding the legitimate expectations of continuation of business under licensed parameters. The custom across the world has been to protect legacy stations, their frequency of operation and power, because, these are the stations that most people rely upon in an emergency.
"Such ill-advised actions would be procedurally unfair, materially affecting our operations, for which we are prepared to seek judicial review."
Since its inception in 1993 as the first private radio station licensed in the Bahamas, Mr Carron said the "People's Radio Station" 100JAMZ has always lived up to its fiduciary responsibilities and pointed to its community work over the years. "Under the leadership of our record setting Editor/Publisher, the 'No.1 Hit music station in the Nation' along with The Tribune's Santa Claus Christmas Committee has provided a Christmas meal and toys for over 49,157 children," Mr Dupuch Carron said. "Plus millions of dollars in donations from our loyal shareholders and benefactors, let alone put together teams to rebuild dozens of homes in St Cecilia, and, most recently, teamed up with HEADKnowles to raise over $500,000 in donations and 100,000lbs in supplies in less than a week for Hurricane Joaquin relief."
The Tribune - which along with TRL forms part of the Tribune Media Group - has repeatedly attempted to contact officials at URCA for comment but has not received a response.
• Comments and responses to insight@tribunemedia.net