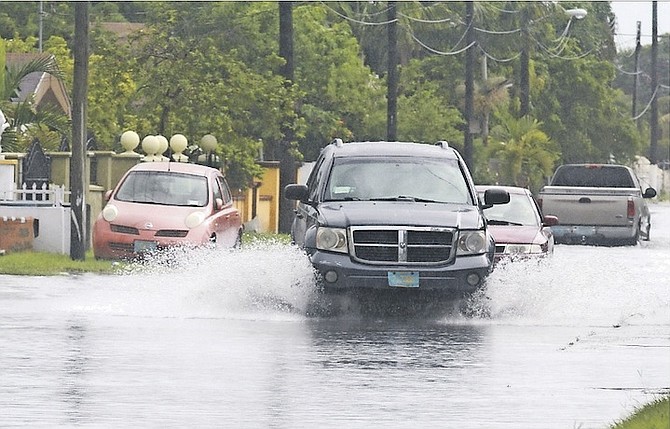 By NICO SCAVELLA
Tribune Staff Reporter
nscavella@tribunemedia.net
RESIDENTS in the northwest and central Bahamas can expect light to moderate rainfall over the next 48 hours as the country continues to experience "tropical moisture" from the outer bands of a departing tropical depression, a senior meteorological official said yesterday.
Basil Dean, deputy director of the Department of Meteorology, said the islands of the northwest Bahamas and a "small portion" of the central Bahamas will experience varying degrees of rainfall through Wednesday evening as Tropical Depression Nine, formerly tropical disturbance 99L, makes its way towards the northeastern Gulf Coast of the United States.
Mr Dean said officials expect "normal summer conditions" to return by Thursday. The islands he said would be affected until that time are Grand Bahama, Abaco, Bimini, the Berry Islands, New Providence, Eleuthera, Andros and the upper Exuma Cays.
Mr Dean also said officials are looking at another system in the Atlantic Ocean, but said it would be a "few days" before that system poses any problems for the Bahamas. He said by week's end the country "could have something headed our way".
Mr Dean's comments came after international weather outlets said there will be a risk of flooding, downpours and gusty thunderstorms early this week in the western Bahamas and central and western Cuba as Tropical Depression Nine, which developed just south of Florida on Sunday, swirls near the Florida Keys.
According to AccuWeather.com, the heaviest storms could bring damaging wind gusts, power outages and rough seas, as well as the potential for a couple of tornadoes and waterspouts.
AccuWeather.com also said the system, albeit "poorly organised", could become a tropical storm as it turns northward then northeastward over the Gulf of Mexico this week.
When contacted yesterday for an update on the tropical depression and weather associated with it, Mr Dean said: "(Tropical Depression) Nine is out of our way, that's moving in the Gulf, but we're still experiencing some tropical moisture as a result of the outer bands, and some of this weather will remain with us through to Wednesday.
"So you can anticipate some light to moderate rains - pretty much what we were getting (Monday) continuing into (today). And by Wednesday evening, Wednesday night we should start to return to normal summer conditions."
When asked if there were any other systems that concerned met officials, Mr Dean said: "No, but we're looking at something else out there in the Atlantic. But it will be a few days before it poses any problem for us. So it looks as by the end of the week's cycle we could have something headed our way."
According to international reports, Tropical Depression Nine was centred about 195 miles west-southwest of Key West, Florida as of 5pm yesterday. The system was reportedly moving west near 9mph. Maximum sustained winds were near 35mph with some strengthening expected during the next two days, officials have said.
For the first time in nearly three years, the Atlantic basin has three tropical cyclones active at the same time, with Tropical Depression Eight to the east of North Carolina and Hurricane Gaston in the Atlantic Ocean.
Gaston, which became the first major hurricane of the 2016 Atlantic season over the weekend, is reportedly gathering strength as it moves northwestward in the central Atlantic, but forecasters have said it poses no threat to land. The US National Hurricane Centre (NHC) says Gaston reformed as a hurricane on Saturday night.
As of yesterday, Gaston had maximum sustained winds of 120mph and was located about 575 miles east south east of Bermuda, moving northwest at about 1mph. Hurricane-force winds extended outward up to 25 miles from the centre, and tropical-storm-force winds extend outward up to 140 miles.
Forecasters have said that Gaston is drifting and could weaken a little.