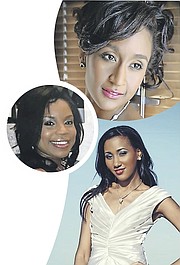 By ALESHA CADET
Tribune Features Reporter
acadet@tribunemedia.net
THREE best friends are set to reveal and restore the beauty of womanhood with the debut of their very first stage play entitled "She Shall Be Called Woman".
Two performances will be staged at the Crush, Coral Towers, in Atlantis, at 7pm on Friday, September 9, and at 4pm on Saturday, September 10.
With their first production, the trio of Mycquel Glinton, Nishan Patton and Anthia Butler is seeking to create a space for dialogue and to capture the spirit behind their amazing journey to discovering what womanhood means throughout the world in this day and age.
With a cast of 15, made up of both kids and adults, the show hopes to open up the conversation about the topic through song, dance, drama, spoken word and other forms of art that throughout history have served as the spark of revolution.
The project took five years to come to the stage and was developed with the help of continuous conversations with women from across the Caribbean, Canada, Europe, the Middle East and the United States. These women candidly shared their diverse experiences, concerns, dreams and frustrations with the three friends and also challenged misconceptions.
The title of the play is taken from the biblical story of the first woman, Eve, and in "She Shall Be Called Woman" the trio of friends consider how her experience is connected to the struggles of women around the world today.
"Our hope is that the truth and beauty of a woman's heart, mind, soul and spirit would be revealed and restored. Womanhood itself can be seen as an endangered species, as the fight to preserve it's true meaning has been a long-standing effort, especially in a society that can be perceived as highly patriarchal," said Anthia.
"This body of work has transformed my entire existence. I've never felt more confident, fierce, informed, in touch and proud to be a woman."
She said the show is guaranteed to make audience members laugh, cry and everything in between. It is trio's hope that after seeing this show, women will feel they can step out boldly in their glorious identities after receiving the revelation of Eve and womanhood through God's eyes. 
"It's a pillar to stand on and birth new friendships and sisterhoods as we've done over the past five years with women from across the globe. We see this going beyond the boarders of the Bahamas, becoming a road show," said Anthia.
"We have friends that are travelling from as far as Montreal. It has allowed us to create so many friendships and relationships and I think that is really important to us to create a space to encourage other women to understand their identity and their purpose," said Anthia.
"Mycquel and Nishan are both full-time writers so this is a gift of theirs. They have always shared poetry and some of their works, so this is a platform for them to just put it out there differently. I am a dancer so there is going to be a lot of different genres of dance as well. We also love Broadway, so that has been a huge inspiration for us. We just feel as though this is an interesting and amazing way to engage the crowd.
Following the play on September 10, an after party will held at 8pm, featuring some of Nassau's hottest DJs and hits from the 70s, 80s and 90s.