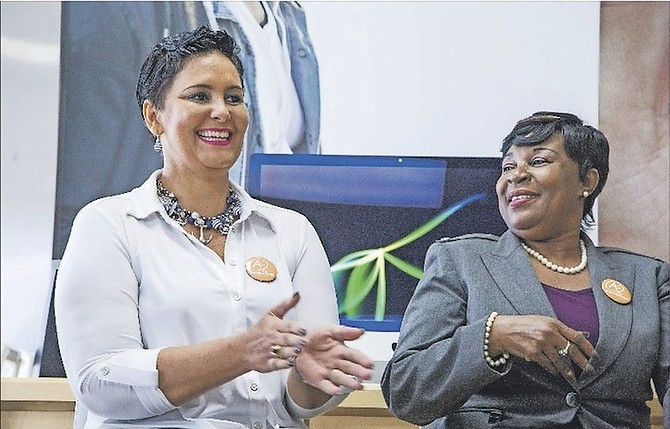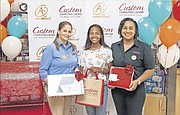 SCORES of eager students, parents, guardians and educators tuned in to the 'A's for Excellence' random prize drawings as they were broadcast live on the Custom Computers Facebook page on Saturday.
Hosted by local media personality Anastarcia Palacious and featuring several special guests, including representatives of the Bahamas Primary School Student of the Year Foundation, the webcast was as informative as it was entertaining.
Every summer, Custom Computers rewards excellence in education by inviting primary and high school students from across the country who earned at least one 'A' grade in their final report card to enter for a chance to win an exciting prize. Students are entered once for each 'A' they received (up to a maximum of 10), so the better they do in their studies, the greater their chance to win.
The high school category winner was Erinn Avery Spencer, a 12th grade student at Queen's College during the 2015/2016 academic year. She won a Microsoft Surface Pro 4 two-in-one laptop/tablet along with a stylus and keyboard.
She was on her way to the airport to travel to Canada, where she will be attending Trent University to study biochemistry, during the live raffle drawings. She stopped by the Custom Computers Know-How Store at Old Fold Bay Town Centre to pick up her prizes before boarding her plane.
She said that she had not planned to enter 'A's for Excellence' but did so after being encouraged to do so by a family friend. She, in turn, urged other students to believe in themselves and be willing to take chances in order to accomplish their goals.
The primary school category winner was Madison Elizabeth Cartwright, a second grade student at Mangrove Bush Primary, Long Island, during the academic year just ended. She earned seven A's and a 3.68 Grade Point Average in her final report card. Her prize was an HP bundle including a laptop, printer and several accessories.
The prize for the Family Island school with the most A's entered, a category established as part of 'A's for Excellence' in 2014, went to Mangrove Bush Primary School, Long Island, which entered 133 A's.
Still recovering from the devastation brought by Hurricane Joaquin, during which the school lost approximately 90 per cent of its furniture, teaching supplies and technical equipment, Principal Carla Rodgers had made it her personal challenge to submit her students' report cards.
"Each year, we encourage our students and parents to enter this campaign," she said. "I knew that most of my parents are still in recovery mode, which is why I took the initiative to personally enter my students."
On hand to accept the school's prize, an HP multifunction machine, toner and paper, was Rosemary Burrows, Senior Assistant at Mangrove Bush Primary. Every student at the school will also be receiving a goodie bag.
In a surprise twist, Custom Computers also decided to reward the New Providence-based school with the most A's entered. The winner was Temple Christian Primary, which submitted 439 A's. The school also received an HP multifunction machine.
"Temple Christian has always been at the top of the list in terms of entries, so we felt it was time to reward the school's teachers and administrators for their continued support and success of their students," said Custom Computers Director Pia Farmer. "We would like to thank everyone for their participation, especially the teachers and parents without whom none of this would be possible, and who are the reasons for the children's success."
This year's 'A's for Excellence' received more than 600 entries, representing 4,847 'A' grades from across the country.
"We are always amazed by the response to our campaign," said Mrs Farmer. "This year, we made an even greater effort to let students know about this opportunity to be rewarded for their hard work. Our team visited 47 randomly selected schools in New Providence, and eight in Eleuthera, and next year we hope to reach out to even more."
Mrs Farmer encouraged students to visit www.aforexcellence.com for regular updates and to be part of the 10th annual campaign slated for next year.