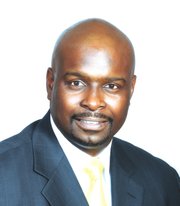 By RASHAD ROLLE
Tribune Staff Reporter
rrolle@tribunemedia.net
ENVIRONMENT Minister Kenred Dorsett said yesterday that his ministry is not considering any applications for aragonite mining in Andros at this time.
His statement came amid evidence that a company is pursuing ways to engage in the activity.
The Tribune understands that a private company has had meetings with residents on the island about the matter this month.
Aragonite mining is typically a hotbed issue for some Bahamians who don't believe the government is doing enough to cultivate the industry or to make money from it.
Mr Dorsett, speaking to reporters before a Cabinet meeting, said yesterday: "Either last week or the week before residents of Andros brought to my attention a memo or a notice being circulated by a private group who was meeting with the people of Andros for what they describe was a proposed mining activity.
"There is nothing that is before the Ministry of Environment in relation to that undertaking and certainly from our perspective it is not something that is going to be taken very lightly. The Bahamas National Trust has already been in communication with me and local administrators have attended those meetings and I have a briefing on what was said, but Andros is a very, very special island. When it comes to mining activities throughout the Commonwealth of the Bahamas as you may know the commonwealth secretariat is about to be completing a comprehensive regime for the entire extractive industries within our country and they'll be here next month to complete that exercise but there's nothing before my ministry in relation to what was being discussed in North Andros and certainly from my perspective we have to look at any proposed mining activities to be taken very seriously in Andros where that island is unspoiled and is important so much to the biodiversity not only in the Bahamas but even to the Americans."
Mr Dorsett said the company pursuing the matter "seemed to be a family owned company" although he did not elaborate on this.
"There's no formal proposal before me to comment on who is behind it," he said.
"From my perspective if there is a development activity that may require some dredging or mining it will go through the normal recourse of going through environmental impact (studies) and how it would be managed, but outright mining in Andros is not something that I certainly think will be considered favourably by this administration."
Mr Dorsett's comments came after some people speculated on social media that the government was considering a "70-year mining deal in North Andros."
A flyer seen by The Tribune advertising a proposal for a mining business was attributed to Morgan's Bluff Development Limited.
"This project will be a wonderful catalyst for economic growth and opportunity within the communities of North Andros," they flyer said.
The meetings about the matter were held on August 18 and 19.