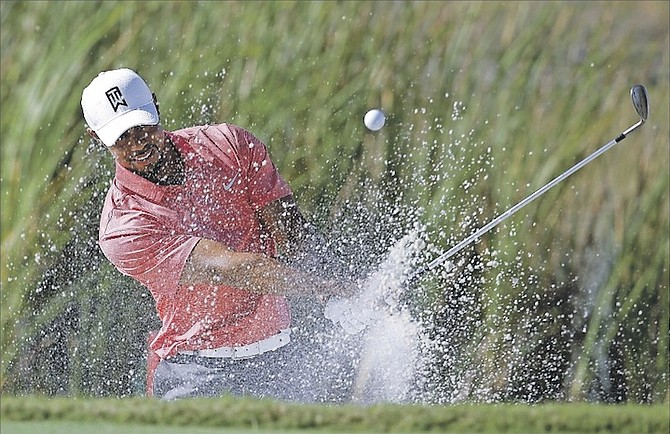 By RENALDO DORSETT
Sports Reporter
rdorsett@tribunemedia.net
The headlines surrounding the 2016 Hero World Challenge all centre around Tiger Woods' return to the course.
Woods, this year's World Challenge field, along with a group of celebrity special guests took to the course yesterday at the Albany Resort for the tournament's Pro-Am Round.
Woods made his unofficial return and wasted little time creating highlights for the handful of fans trailing him on the course.He notched eagles on the 572-yard third hole and the 603-yard ninth. He also made a 15-foot putt to save par on the final hole. In his first competitive round in over a year, Woods shot a -2 under 70. "It felt good out there," Woods said but added he still has a long way to go and lots to work on.
"Probably my putting.  My speed's off.  I did some work two and three days ago, but they were double cut and now they're single cut, different speed.  Most of my putts I left short.  The last couple holes I made a couple putts and I was telling Joey I'm going to hit it at least four, five feet past the hole, I don't care, and they were going about a foot past.  So I need a little bit of work this afternoon. You know, I felt good with pretty much everything.  I was able to hit all the shots I needed to hit."
As for today's round when play officially starts, Woods said: "I'll be focused, I'll be ready. The Hero World Challenge takes place at Albany for the second consecutive year beginning today through Sunday, December 4. The $3.5 million Hero World Challenge features 18 of the world's best golfers and Sunday's champion will take home a winner's prize of $1 million.
In 2015, Bubba Watson shot a 6-under 66 for a three-shot victory over Patrick Reed. For his efforts, Watson walked away with a cash prize of $1 million and a No.4 world ranking.
Going into the tournament, Watson is ranked at No.10. The top two ranked players Jason Day and Rory Mcllroy are not here, but five more of the top 10 are here, including No.3 Dustin Johnson, No.4 Henrik Stenson, No.5 Jordan Spieth, No.6 Hideki Matsuyama, No.8 Patrick Reed.
Each of the top ranked players in the field reacted to Woods appearance and gave their expectations on how they felt the course will play this year.
"Always excited to come back here, great event," Johson said, "It's a lot of fun to play and kind of gets my ‑‑ it's kind of my practice heading into next year.  Had a couple months off other than China.  I don't even know if I played golf there, but I was there.  But you know it's nice to get back into playing again, practicing and starting to get ready for next year."
Reed , last year's runner up, will be paired with Woods today.
"I can't wait.  I'm really excited for him, I'm excited for the game of golf to have Tiger back, and to have that honor to be able to play with him in his first competitive round back in 16 months, it's going to be awesome.  I'm looking forward to it.  It's going to be fun to go out and play with him, especially with him being our vice captain at that Ryder Cup.  To be able to spend some more time with him and hang out and enjoy the walk and allow him to enjoy his first day back in competitive golf because golf's been waiting for him and I believe he's ready so it should be fun," Reed said, "Well, I'm definitely confident.  The golf course is great and I feel like it suits me pretty well.  I really, it's just going to depend on how the weather is, how the wind's going to be blowing and et cetera because these past couple days it's been howling out here and it's been tough.  I feel like there's going to be a premium on your ball‑striking, but also your putts and your speed. It's all about eliminating those errors and mistakes."
Jordan Spaieth said the atmosphere of the course and the events surrounding the tournament made for a great experience, one that he hopes to repeat while also improving his performance on the course.
"Yeah, very happy to be back.  This event's certainly one that everybody tries to get the invite to at the end of the season.  Lot of fun.  It's just a great week.  Everybody kind of hangs out together, too.  The activities you do are together, which really is unique about this tournament.  It's beautiful here.  I mean, it's hard to beat this place.  18 guys play fast," he said.
Spieth said there will be an adjustment period, due to course changes, as players seek the high scores from last year's event.
"I know we shot 20 and finished fourth, which is very rare in a tournament.  I thought I shot like 8 or 9 when we came here.  But the course was very different from this year.  It was wet and there was not wind.  It looks like the first couple days are going to be scoreable and then it looks like the wind is going to pick up on the weekend, and it truly changes the golf course," he said, "There were also changes made.  The course is longer.  There's a couple of the easier holes like 10 pushed back.  Par 3s will be pushed back more than they were.  Less scoring chances than last year, I think that's great. I think the scores will be higher this year compared to last year based on what we're seeing.  I think the first two days will be similar.  I think the weekend will play tougher than the weekend last year.  But who knows.  Down here you could have a storm blow in like that and then there's no wind afterwards.  It's hard to tell, but that's what I would forecast."