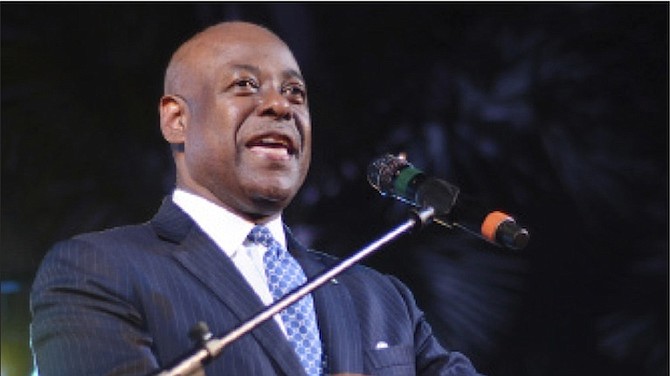 By RASHAD ROLLE
Tribune Staff Reporter
rrolle@tribunemedia.net
TOURISM Minister Obie Wilchcombe said his ministry is working with the Gaming Board to identify people who will monitor what's happening "on the ground" in an effort to clamp down on illegal web shop operations.
Though it was widely assumed that illegal operations were discontinued after the Christie administration began regulating the industry, ordering some businesses to shut down and issuing licenses to companies, web shop bosses say 20 per cent to 30 per cent of the web shop market today is controlled by unregulated parties.
It is a pressing concern, they say, for it robs them of potential revenue and robs the government of a tax source.
The unregulated operations include Bet Vegas, which was denied a provisional license by the Gaming Board last year but remains operational while it pursues remedies through the courts.
But unregulated operations also include rogue ones that mostly rely on hand-held, mobile gaming devices even though they have been outlawed.
"They are doing underground stuff," Mr Wilchcombe admitted yesterday. "That's why we are going to strengthen our street presence to monitor what's going on in order to protect the industry."
"I agree completely with Craig Flowers," he added, referring to comments the FML Group of Companies boss made to The Tribune Wednesday about illegal operations. "We can't go through all that we have to put in place this proper regime only to be undermined by illegal elements."
The rules and practices for dealing with illegal operations appear not to be well defined at this time.
Senior police officers said yesterday that the Gaming Board is responsible for enforcement.
But, according to Mr Flowers, Gaming Board heads told web shop bosses Wednesday that enforcement is the purview of the police since their focus is on regulatory issues.
Indeed, a senior attorney within the government emphasised that it's the responsibility of both the Gaming Board and the police to address illegal operations.

"If there are any suspicions that a crime has been committed, then the police would be directly involved," the source said.
"If asked by the Gaming Board to conduct investigations to determine if a crime has been committed they would get involved. The Gaming Board regulates whether web shops are complying or not."
Asked about the matter yesterday, Assistant Commissioner Leon Bethel said: "The Gaming Board is responsible. It is instructed in the (Gaming) Act as to what happens when things are not in order."
Gaming Board officials could not be reached for comment yesterday although messages were left for them amid multiple attempts to reach them.