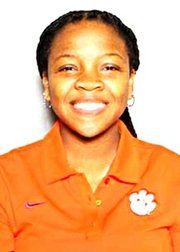 By RENALDO DORSETT
Sports Reporter
rdorsett@tribunemedia.net
YOLETT McPhee-McCuin and her Jacksonville Dolphins have adopted the phrase "No Ceilings" and have certainly played true to that motto this season.
The Grand Bahama native has led her team to the best start of the last six years for the Dolphins' women's basketball.
A 55-40 win over Savannah State Tuesday night lifted the Dolphins to a 6-2 record on the season.
"We're just trying to get better every day," said McPhee-McCuin. "I'm looking for efficiency and for our players to know and understand their roles. It's going to be a process, but that is what nonconference is for. "Defence is our identity. We want to rebound, run and share the ball. I was definitely pleased with our efforts on the defensive end."
Jacksonville returns to action 2pm Saturday against Florida International University.
McPhee-McCuin and her Jacksonville University Dolphins are currently on a conference title repeat chase and hope to make an even deeper run in the NCAA tournament in the 2016-17 campaign.
Last season, her third year at the helm, she led the Dolphins to a 22-11 record, the A-Sun tournament title and their first NCAA Tournament championship berth in school history.
This year will be all about the team building on that success.
"I don't want you to be concerned, I'm not still caught up in the past. The goal this year is to pursue an A-Sun Championship, it will never change," she said. "We're not trying to repeat and I don't think you can repeat when you have new members, it's a new team. So we just want to pursue another championship. That's what we're about."
The Dolphins have garnered national attention with a No. 22 ranking in the CollegeInsider.com Mid-Major Top 25 preseason poll.
This offseason, McPhee-McCuin sought to create further ties between her at Jacksonville University Dolphins and the Bahamas with her "JU in the 242" programme.
Beyond the lines of the basketball court, Jacksonville also participated in several community service events, including a visit to the Children's Emergency Hostel.
When she was announced as the Dolphins head coach in April 2013, McPhee-McCuin became the first Bahamian head coach in an NCAA Division I basketball programme.
The daughter of legendary Bahamian coach Gladstone "Moon" McPhee and educator Daisy McPhee, she became the third head coach in the 14-year history of Jacksonville women's basketball.
McPhee-McCuin took on the role of head coach for the Dolphins after a three-year run at Clemson University, where the National Women's Basketball Insider named her one of the top assistants in the nation.
Last offseason, she signed her first Bahamian to the Dolphins' programme, Shalonda Neely.