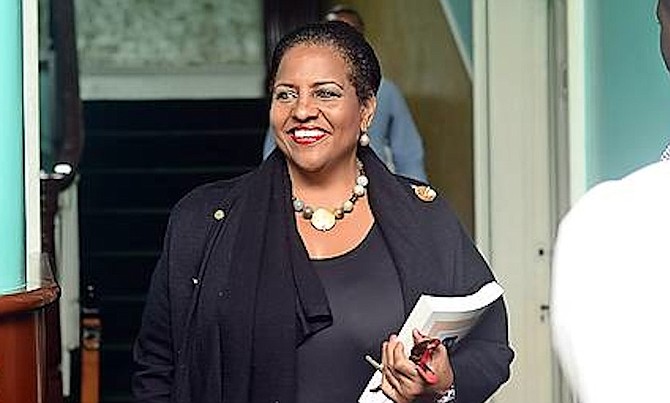 By SANCHESKA DORSETT
Tribune Staff Reporter
sdorsett@tribunemedia.net
FREE National Movement (FNM) Shadow Minister of Labour Loretta Butler-Turner yesterday said she found it "highly suspect" that Prime Minister Perry Christie announced that 1,500 people will be hired to work at the stalled Baha Mar resort in the height of election season.
Mrs Butler-Turner told The Tribune that while it is "good and welcome news" that Bahamians will be able to get jobs, she has "seen and heard the Baha Mar opening dance" from Mr Christie "one too many times" and she will "not hold her breath" that the resort will finally open.
On Friday, Mr Christie revealed during a Bahamas Hotel and Tourism Association (BHTA) lunch that the troubled mega resort would begin its phased opening in the second quarter of 2017.
The Prime Minister also said 1,500 employees will be hired "imminently" in the New Year.
"This is to facilitate the phased opening of 1,800 rooms at the conference and casino hotel, the casino, convention centre and golf course, and employment of up to 3,300 by August, 2017, and 4,300 by December, 2017, when all components have been completed and opened," he said.
"Chow Tai Fook Enterprises (CTFE) will invest $200 million in pre-opening festivities, development of family amenities, entertainment and offshore island facilities and demolition and re-development of the former Crystal Palace Hotel. With these additional investments completed, the project will have created 5,700 new direct jobs and an additional 4,160 indirect and inducted jobs," he added.
Mrs Butler-Turner said Mr Christie has been disingenuous and misled the Bahamian people about Baha Mar "too many times to count" and she does not believe that this time will be any different.
"We have heard this song from the Prime Minister a few times too often and none of it has come to fruition," Mrs Butler-Turner said. "He said workmen were on the ground a couple months ago and that wasn't true, so any promises from Mr Christie are ringing hollow at this point. What is different about this proclamation than all the others?
"I take you back to the meeting he had in the Cabinet Office where he said everyone will be paid. Some people have gotten their money but many of the contractors are still waiting so I find it hard to believe anything he said. He has been disingenuous and (misled) the people about Baha Mar being sold. So I will have to have real evidence to substantiate what he is saying because I have lost faith in him and his empty promises."
Mrs Butler-Turner also said she finds it "coincidental" that jobs are coming right before Bahamians head to the polls.
"Mr Christie and his cohorts have been an abysmal failure in office and this is his last attempt to hoodwink the Bahamian people," she said.
"The second quarter is May, June, July - right around elections, I find that highly suspect that's when jobs will be given. I caution the Prime Minister to remember that we have been advised that the building has been compromised and needs considerable work, so in his rush to say he is employing people I do not want him to embarrass this country and get tourists here and that building is not up to standard. To me that is very, very important."
A high-ranking government delegation left for Hong Kong on Thursday to meet with prospective Baha Mar buyer CTFE and tour its casino operations.
The delegation includes Attorney General Allyson Maynard-Gibson; Tourism Minister Obie Wilchcombe; Sir Baltron Bethel, senior advisor to the Prime Minister; and four officials from the Gaming Board.
In October, 2015, more than 2,000 Baha Mar employees were made redundant. At the time, the resort's court-appointed joint provisional liquidators, Bahamas-based KRyS Global and UK-based AlixPartners, said the layoffs were due to the financial insolvency of the $3.5 billion resort project that has been stalled since June 29, 2015.