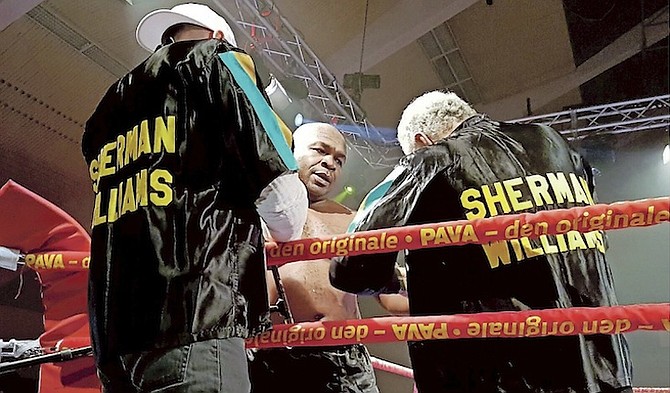 By BRENT STUBBS
Senior Sports Reporter
bstubbs@tribunemedia.net
IF there was anybody who doubted whether Sherman 'the Tank' Williams still has what it takes to be a heavyweight contender, he proved it on Saturday night.
The Grand Bahamian stopped Brazilian Mateus Roberto Osorio with a first round knockout with the "conch punch" at the Ceres Arena in Aarhus, Denmark.
"Everything went well. It was a good fight," Williams told The Tribune after the fight. "This opponent was coming off five straight fights where he had some good performances, so I just wanted to take the fight to him.
"I got him with a jab, went to the body and over the top with the over hand right. The first two overhand rights didn't land, but I caught him flush on the temple with an overhand right and a left hook and he fell big time with a big KO. The way he fell to the ground, I know he wasn't going to get up."
Osorio, nicknamed 'the Tsunami,' was rising a two-win streak in his native home of Sao Paulo, Brazil. But against the 44-year-old Williams, who resides in Vero Beach, Florida, it wasn't any match. With the win, Williams improved to 39-15-2 as he wowed the crowd in dropping 32-year-old Osorio to 9-3.
"The crowd was really ecstatic. I was pleased that the Danish fans were rooting and cheering for me," Williams said. "Me and my team came out 100 per cent all Bahamian and they received us well.
"The two plus months that I've been here working out with the two Danish fighters definitely serve me well and I feel good about the possibilities going forward here in Denmark."
With a new promoter from Denmark, Williams said the goal is to see if he can finally get the rematch with the former undisputed world heavyweight champion Evander 'the Real Deal' Holyfield.
The two met on January 22, 2011 at the Greenbrier in White Sulphur Springs, West Virginia for the World Boxing Federation title in a bout that was ruled a "no contest."
"They really want me to do the Holyfield rematch that should have happened a few years ago, but Holyfield talked his way out of every possibility when it was proposed," Williams said.
"So he knocked out their champion Brian Nielson, so I think they want to avenge that loss. But if that don't happen, there is a possibility that I can fight one of the two British heavyweight contenders."
Right after the showdown with Williams, Holyfield travelled to Copenhagen, Denmark where he won a TKO over Nielson in Koncerthuset. He has not fought since, although he's still in the gym training.
While he waits to see if Holyfield will accept a rematch, Williams said he's hoping that his nomination for the British Commonwealth heavyweight title will be accepted.
"It's not all set in stone yet, but it's positive conversation and that fight could be held next year in Toronto, Canada or England," he said. "Working with a new promoter here in Denmark, it could even possibly be held here if we can work out the purse bid.
"So I'm happy to end 2016 strong with a big first round KO with the conch punch. This is my craft. I love to get into the ring and fight. For all of the naysayers and the speculators who were saying that the Tank doesn't have the power and he's too slow, that is all rubbish."
Williams said if George Foreman could have regained the world heavyweight title at 54, knocking out Michael Moore, who was 28, there's no reason why he can't continue to propose another world title shot.
"Age is just a number with heavyweight boxing," he said. "This is a new era in boxing. The up and coming boxers don't have the stickability, the tenacity and the hunger. So as long as I'm feeling great and God gives me the ability, I'm going to step up one fight at a time."
In the meantime, Williams said he's enjoying his stay in Europe and touring the whole of Scandinavia.