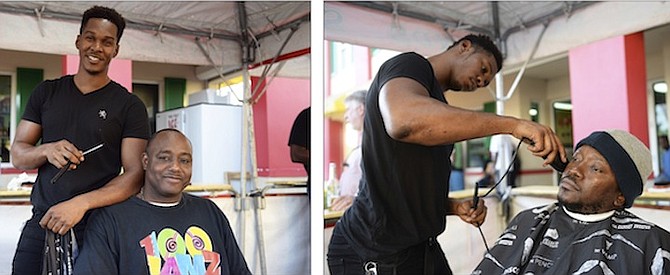 By ALESHA CADET
Tribune Features Reporter
acadet@tribunemedia.net
MOVEMBER organisers exceeded their goal in attracting nearly 200 men to free Prostate-Specific Antigen (PSA) testing events in Rawson Square and at the Green Parrot Bar and Grill.
The annual events surrounding 'Movember' are celebrated worldwide during the month of November, encouraging men to grow their moustaches and beards in effort to raise awareness of male health issues, including prostate cancer. The initiative was introduced to the Bahamas this year for the first time by Rotary Clubs of The Bahamas West and Tribune Radio House.
"It was a step for men who hadn't done any testing in their past time, a step in the right direction," said Tim Ingraham, Assistant Governor for Rotary Clubs of the Bahamas West. "I think it made them much more aware of what they are exposed to and the number of men being diagnosed in our society. Beyond that we got email addresses with all of the men who received testing and we intend to continue to follow up and encourage them to take care of their health."
Being diagnosed with prostate cancer earlier this year was a sign to Mr Ingraham that indicated this movement was something to take up.
The moustache and beard growth generates questions and conversations surrounding men's health, Mr Ingrahama said. He believes prostate cancer is one of the leading causes of death among Bahamian men but it is also very treatable if they are looking into their health from early on.
Last Friday, 'Movember' participants made a fun day out of their bearded month-long journey by taking part in a "Shave Party" at the Bahamian Brewery on Nassau Street.
The men were treated to a shave by local barber Pedro Mejias, of West Bay Barber Shop, who donated his services free of charge. Pedro said even though the shave party was held on one of his busiest days, he was more than willing to take on the opportunity to make a difference in his country.
"I thought Movember was a great idea because men's health isn't usually recognised as big as it should be," the barber told Tribune Health. "Men don't really know how important it is for us to get our check ups and just raise awareness about our health issues. I commend the organisers on bringing this idea and movement about."
Considering he is normally working on his feet all day, Pedro said the four hours at the shave party was a breeze. For him, the most enjoyable experience was meeting everyone and getting to know new people in a different environment. "The conversations were hilarious. When they sat down in my chair I joked and asked them if they came for the hot cutlass shave and that took a few of them by surprise. They talked about coming to my shop to support me so I also gained some new clients," said Pedro.
Highlights of the shave party also included a live broadcast by Tribune Radio personalities and gift presentations. Prizes included Popeyes Bahamas Bowl tickets and a set of tickets to a Miami Dolphins NFL game with travel expenses covered.

JJ McKenzie, on-air personlity and Director of Promotions/Online Marketing, is delighted that Tribune Radio House can utilise their large platform in this way because there is a need for men's health awareness in the community. 100 Jamz participating personalities included Xcitement, Jatonde, Joe Koolz and Special K; Kiss 96's Naughty and Big Guy; Y 98's AC and Joy FM's Ricardo Clarke.
"Bahamian men tend to not do anything when it comes to their health so to now see them seeking more interests in taking care of themselves means the Movember movement made an impact," she said. "Next year it is going to be even bigger so we are really excited about that. I think the most important thing is this was the proof of the power of media at Radio House and our combined efforts of getting the word out there and using the proper channels to do so."
The 'Movember' aim was to also raise funds to assist with treatment and testing for men's health issues in the Bahamas. While there are no concrete numbers as to what has been raised at this time, Mr Ingraham said the main objective was to make sure men received PSA testing services, and from that perspective it was an overwhelming success.