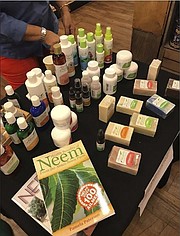 By JEFFARAH GIBSON
Tribune Features Writer
jgibson@tribunemedia.net
SOLOMONS Fresh Market's mission to support healthy living has not changed over the five years it has been in existence.
And in celebrating its fifth anniversary and furthering that campaign, the Bahamas' largest gourmet grocery store partnered with vendors to expose its customers to healthy food and products that can contribute to their overall health.
One of those companies that share a similar philosophy is Abaco Neem, which held a showcase of its products at Fresh Market's Harbour Bay Plaza location last Saturday.
Abaco Neem was founded in early 1993 by proprietor Nick Miaoulis, a native Bahamian who was introduced to neem. He became attracted to the plant's ability to help control high blood pressure and diabetes, two diseases common in his family and prevalent in the Bahamas. In February, 1994, 120 acres of land near Casuarina Point, 13 miles south of Marsh Harbour, was acquired to establish the Abaco Neem Farm.
Today there are 8,500 Neem trees on the Abaco Neem Farm. Abaco Neem produces a range of over 23 products for the body, alternative preventative medicinal products, as well as home, garden and pet products. All of the products are made by using their own organically grown neem under environmentally friendly farming practices.
Daphne de Gregory Miaoulis, who runs Abaco Neem with her husband, said for centuries that the plant has been used for its medicinal properties. "Basically all parts of the tree have nutritional value - the leaves, the fruit, the seed and the bark," Mrs Miaoulis told Tribune Health.
"We take and extract the oil from the seed, which is the most valuable component that goes into our healing products. You can also use the oil by itself. But we use it as the active ingredient for our lotions and creams," she said.

The bark is also used to make a tooth powder which can act as a replacement for paste or can be used in combination with it.
"What it basically does is help to cut down on plaque, gingivitis and help with dental hygiene," she said.
The leaves of the neem are also used by the company to make a first response antiseptic. "Neem is anti-bacterial, anti-viral, anti-fungal and anti-inflammatory and on top of all that it is a natural repellant. So it is completely environmentally friendly and it is non toxic," Mrs Miaoulis said.
From the company's inception, it has been keen on presenting an alternative to help people manage the various issues they may have.
"When it comes to your health we believe that your food is your medicine and prevention is better than cure. So if one the onset of a scratchy throat, an earache, upset stomach, you use neem immediately. It would help you to manage that issue without it developing into a problem that would require medical attention," she said.