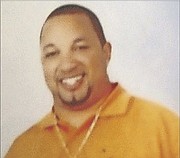 By DENISE MAYCOCK
Tribune Freeport Reporter
dmaycock@tribunemedia.net
THE family of a man shot and killed two years ago by police officers in Grand Bahama is frustrated over the lack of co-operation from police concerning the matter, which has yet to be brought before the Coroner's Court.

Joanne Lockhart, the widow of 37-year-old Detandrion Lockhart, said something is not right about the circumstances surrounding her husband's death. He was killed during a reported chase and shootout by police in May 2014.
"My family and I need closure, my family and I need answers," said Mrs Lockhart. "It has now been two and a half years now since my husband was shot and killed by the police."
She claimed that she nor her attorney have been provided a police or medical report concerning his death, despite their requests from officials.


Mrs Lockhart said that about two days after the incident her attorney contacted Commissioner of Police Ellison Greenslade and requested details relative to the incident.
She said two weeks later another letter was sent to Commissioner Greenslade requesting a police report.
The commissioner, she said, responded advising that the matter had been forwarded to the Coroner's Court and consequently could not provide any information.
"To date, I have not received a police report nor a medical report after having paid for one two weeks after the incident, and my attorney was advised that the file is not pending in the Coroner's Court. In fact, he said, the file could not be located," she claimed.
In a police report released to the press, police said they received information around 9.45pm on Monday, May 5, 2014 of gunshots being fired from a white Chevy truck in the Bartlette Hill area in Eight Mile Rock.
Officers responded and intercepted the truck. There was an exchange of gunfire between the occupant of the truck and officers. The driver then sped off and officers gave chase.
The truck later crashed in bushes off the Warren Levarity Highway, where it was discovered that the occupant had been fatally injured. Officers also recovered a firearm at the scene, police said.
Mrs Lockhart is not satisfied with the way her husband's case is being handled and has tried to get answers, but has got nowhere.
"I am baffled at how many dead ends I have encountered since my husband was shot and killed by the police. Something is just not right about the circumstances surrounding his death," she said.

She alleged that several police officers have approached her in private expressing their displeasure about her husband's shooting, and have strongly advised her to pursue legal action until someone is brought before the courts.
She has now sought assistance of self-proclaimed activist Omar Archer to assist the family.

Mrs Lockhart said she has turned over photographs taken of her husband's truck after the incident and other evidence.
Mrs Lockhart said they are now preparing to forward their findings to Amnesty International.
"We seem unable to get any justice here in the Bahamas. There are too many inconsistencies in the initial verbal statement given to me when compared to the evidence gathered," she claimed.

When she went to the hospital to identify her husband's body, she alleged that the doctor told her that her spouse had been shot only once to the back of the head and died instantly, contrary to reports in the media, which reported that he had multiple gunshots wounds to the body. She also does not believe her husband was involved in a shoot out with police and questioned if the officers involved had proper firearms training.
"I'm left to question then why is there blood all over the exterior of the truck, including the tailgate and the truck bed that he was driving? Why is there no trace of blood in the driver's seat but blood is present on the passenger door and seat? Additionally, why is the bullet hole in the headrest in a downward position when it should have been in an upright position as the police car is much lower than the truck? How is it possible that he could have been in a high speed shoot out with the police while driving a standard shift truck and could drive from Eight Mile Rock to the Fishing Hole Road with a shot to the back of his head? These are just a few of the questions that have been left unanswered," Mrs Lockhart said.
Mrs Lockhart said the family just wants answers.
"Our five-year-old son still asks for his daddy everyday with no answers," she said.