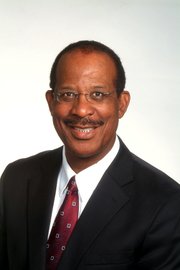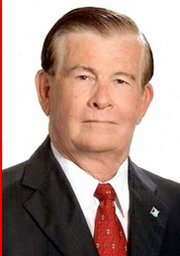 By KHRISNA VIRGIL
Deputy Chief Reporter
kvirgil@tribunemedia.net
THE Free National Movement only began seeking a new candidate for the Central and South Abaco constituency after area MP Edison Key informed the organisation that he would not be seeking another nomination because he was retiring from front line politics, party Chairman Sidney Collie said yesterday.
He added that no decision has been made as the interview process is continuing. It has been widely speculated that 24-year-old James Albury was the party's pick.
In a press statement, Mr Collie further denied that any secret gatherings took place in the constituency as all meetings were widely advertised on television and radio. He said FNM Leader Dr Hubert Minnis had not attended the most recent meeting to discuss party business on the island, but instead Peter Turnquest, FNM deputy leader, led a delegation to that constituency.
This response from the executive level of the party follows a stinging critique of Dr Minnis by Mr Key.
He told The Nassau Guardian that he will not run again on the FNM's ticket, suggesting that the reason for this was because Dr Minnis was not a man of his word.
Mr Key, 78, further claimed that Dr Minnis conspired with certain FNM supporters to end his political career. A part of this plan involved not informing him about secret meetings that took place in his constituency, it was reported. Mr Key also claimed that there were "a few white dissidents" led by the association chairman, who were involved in this conspiracy.
The constituency association has denied Mr Key's accusations, saying his reaction was sparked by disappointment that he will not be the party's candidate in the 2017 general election.
"It is with deep appreciation and much respect for his long years of exemplary faithful service to The Bahamas, the people of Abaco, and his constituents that we thank the Hon Edison Key for his service to our country," Mr Collie said.
"Mr Key has served with distinction and we celebrate his long and unwavering commitment to The Bahamas and his dedication to his constituents, all of Abaco and to the Bahamian people as he serves out the remainder of his term in office.
"Last year, Mr Key informed the FNM and the constituency association of Central and South Abaco that he would not be seeking nomination for the constituency as he would be retiring from frontline politics at the end of the present parliamentary term. He also encouraged the constituency association to identify a suitable replacement. In accordance with his request the Central and South Abaco branch of the FNM started upon a process of identifying applicants for consideration and approval by the Central Council of the party."
He added: "On Friday last Deputy Leader (Peter) Turnquest led a delegation, which included myself and members of the party's Candidates Search Committee, to meet with the South Abaco constituency association to solicit their views. We also met with a cross section of the community who attended a public meeting to hear their views as well. Contrary to what was reported in the newspapers Dr Minnis was not in Abaco and the meeting was not held in secret, but was widely advertised both on TV and radio.
"I wish to make it clear that no decision has been made by the Central Council with respect to the Central and South Abaco constituency as the interview process is continuing.

"The FNM is committed to listening to the wishes of the people in the various constituencies and will shortly present a change team to replace the failed PLP government next year. While we hope that Mr Key continues to support the FNM as he has done tirelessly for years, we wish Mr Key and his family God speed in their future endeavours," Mr Collie said.
Progressive Liberal Party Chairman Bradley Roberts has used the FNM's internal spat to question Dr Minnis' loyalty not only to his party but to Bahamians.
On Monday he defended Mr Key, suggesting that his loyalty to the FNM leader was allegedly rewarded with "backstabbing, disrespecting and undermining."
He also said the PLP would welcome Mr Key, a former member, back into the fold if he decided to cross the floor.