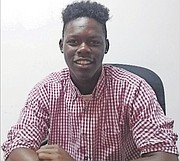 By BRENT STUBBS
Senior Sports Reporter
bstubbs@tribunemedia.net
WHEN Jasrado Chisholm signed with the Arizona Diamondbacks, he said he just wanted to make the best of his opportunity to play professional baseball.
After his rookie season in the Pioneer League, Chisholm said it has been all that he anticipated and even a little more for him to appreciate.
"It's been amazing. I love their system," said Chisholm about playing in the minor league. "The guys there treat you equal. So it was amazing for me.
"When I was growing up, there was always a favourite on the team. But in this system, they don't have any favourites. I mean, if they do, they don't show it like they would show it here at home."
Chisholm, who left Faith Temple in 2010 to enrol in Life Preparatory Academy in Wichita, Kansas before he returned here to attend Mastering Yourself Academy and playing in the Max D programme in 2015, got his break when the Diamondbacks signed him to a professional contract.
This past season, Chisholm suited up for the Missoula Osprey in the rookie Pioneer League in the Diamondbacks organisation.
He played in 62 games where he had 249 at-bats with 42 runs, 70 hits, 111 total bases with 12 doubles, one triple, nine home runs, 37 RBI (runs batted in), 19 walks, 73 strike outs and was caught stealing four times with 13 stolen bases for a .281 average.
Defensively as a shortstop, he appeared in 511.2 innings with 302 total chances, 105 putouts, 173 assists, 24 errors and 31 double plays for a rate factor of 4.63 and a fielding percentage of .921.
"It was an amazing season," said Chisholm, who participated in the All-Star game and was named the No.1 prospect for the Diamondbacks in the Pioneer League, calling it "the greatest accomplishment in my life so far."
While he tries to remain active working out to stay in shape over the Christmas break, Chisholm was invited to be a part of the Life Preparatory Academy Hall of Fame this weekend. He leaves town today for the event.
On his return, Chisholm will spend the rest of the summer enjoying the festive occasion with his family and friends and working out with Max D in anticipation of rejoining the Major League players, whom he intends to spend some time with before he heads to spring training.
Chisholm, a 18-year-old six-foot-one player, said he was extremely thrilled to see his long-time friend Tahnaj Thomas sign his professional contract yesterday with the Cleveland Indians.
"Whenever he's home, my grandmother allows him to sleep over. She never really allows me to sleep out of the house or anyone to sleep with us, but she accepted him," said Chisholm of Judy Chisholm, his grandmother and Hermis Chisholm, his grandfather.
"He's one of the guys that my grandmother really loves. We are very close. So to see him sign his contract is like a dream come true with both of us playing pro ball. I'm looking forward to us one day playing on the same field."
Chisholm, the son of Martinique Coakley and Jasrado Chisholm, advised the younger players to continue to work hard because "hard work pays off at all times.
"When I signed, they were not even considering me on the list, but now I'm the No.1 prospect for the Diamondbacks in the Pioneer League. I believe that hard work pays off."