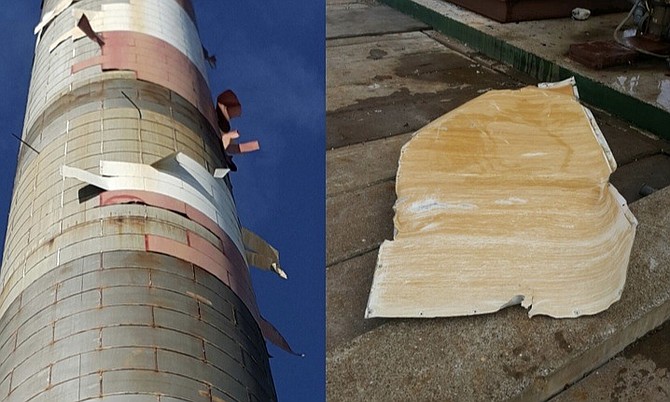 By SANCHESKA DORSETT
Tribune Staff Reporter
sdorsett@tribunemedia.net
PRESIDENT of the Bahamas Electrical Workers Union Paul Maynard yesterday threatened industrial action if the government does not immediately repair the damage to Bahamas Power and Light's Clifton Pier Plant caused by the passage of Hurricane Matthew in October.
In an interview with The Tribune, Mr Maynard said the situation at Clifton requires "urgent attention" and the environment is too dangerous for his members to continue to work. According to the union president, the covering on the smoke stacks at the plant is "peeling" and falling to the ground. He said at any moment, one of the metal plates can "hit one of the workers" severely injuring them.
Mr Maynard said the issue was brought to the attention of the executive director of BPL's Board, Deepak Bhatnagar, but he claimed Mr Bhatnagar refuses to sign off on the repairs to be done "in order to save a dollar."
He said if the issue is not resolved by next week, his workers will not return to the Clifton Pier Plant, which means if the electricity were to go off, it will stay off.
"He handles all the maintenance contracts and so on and he just sits there micromanaging and not doing anything of real substance," Mr Maynard claimed.

"Bhatnagar was a problem at the airport when he was there and he is a problem here. A lot of the issues we are having with the electricity going on and off is because of him, he refuses to allow the problems to be fixed," Mr Maynard further claimed.
"He is very condescending and arrogant and likes to play the victim like it's everyone's fault but his, but we are not going to entertain that. If they don't deal with him and get him out of there, oh you will see what will happen. This situation at Clifton requires urgent attention. I wrote to the deputy prime minister and complained and got no response.
"What if those things fall and hit someone in the head? What if someone gets severely hurt? If they do not fix the damage, no staff will go to Clifton Pier, so if the engines shut down, the entire island will be in the dark and stay in the dark. I will not put my members at risk. They will not report to work next week under these conditions."
On February 8, the government and PowerSecure signed a Management Services Agreement (MSA) that assigns PowerSecure management of BPL, formerly the Bahamas Electricity Corporation (BEC), for the next five years.
At that time, the old BEC Board was dismantled and Mr Bhatnagar was named executive director of the new BPL board.
The Tribune attempted to contact Mr Bhatnagar but calls were not returned up to press time.