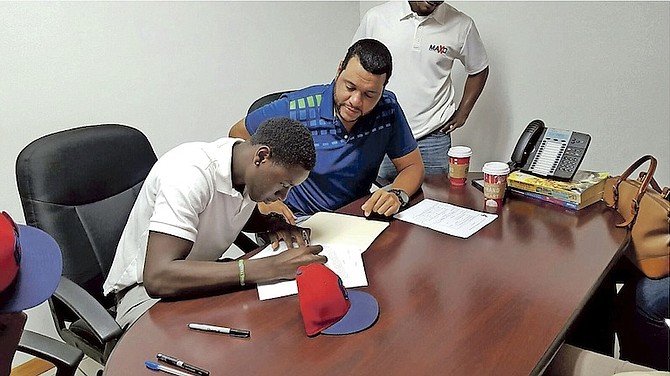 By BRENT STUBBS
Senior Sports Reporter
bstubbs@tribunemedia.net
Tahnaj Thomas, a Grand Bahamian native who moved to New Providence at the age of 13 to further enhance his skills, is the latest Bahamian to sign a professional baseball contract.
Yesterday, Thomas signed his name on the dotted line with the Cleveland Indians. Koby Perez, the director of Latin American Scouting for the Indians, conducted the historic occasion in front of Thomas' family and executives and players from the Max D Baseball Academy.
"It's a long time coming. I just want to embrace the moment and enjoy it. It's a pretty good feeling," said the 17-year-old Thomas with tears in his eyes. It's great to be called an Indian."
Thomas, who began his early education at Hugh Campbell Primary and Sister Mary Patricia High in Grand Bahama before he transferred to Leadership Academy and Max D in New Providence, said when he first got the call that he was going to sign the deal, he couldn't believe it. Even now that he's done it, he said he still doesn't believe that it is a reality.
"All of my dreams of becoming a professional baseball player have finally come through," he said. "It didn't matter which team that selected me. I just wanted to get into the system."
Although he's a shortstop, the six-foot, 4-inch Thomas was recruited as a pitcher. But he said it doesn't matter because he's getting the opportunity to help the Indians win a World Series after they fell short to his favourite team - the Chicago Cubs - this year.
"It wasn't shortstop, but they signed me at the two positions," Thomas said. "I think moving on, they are looking for me to be developed as a pitcher so I'm really excited about that."
Thomas thanked God for the opportunity that he has received from the Indians.
He expressed his gratitude to his deceased mother, Michelle Thomas, who passed away on April 17; his father, Sidney Thomas; his house parents in New Providence, Kristy and Castino Sands, as well as his coaches in Max D., including Geron Sands, Greg Burrows Jr, Albert Cartwright and Antoan Richardson and his teammates in Max D.
To his teammates in Max D, who are waiting on their opportunity to follow in his footsteps, Thomas advised them to just keep their head high and don't try to rush anything.
"Just go with the flow. Things may not be the same and they may not go the way you want, but just thank God and be patient," he stressed.
Perez said they had Thomas under the radar for more than a year and because he has the ability to play two positions, they feel the sky is the limit for him.
"I think Geron Sands, Greg Burrows and Albert Cartwright have done a fantastic job in making this kid a ball player and we hope that he is a future Major Leaguer for the Indians," Perez projected.
With his contract signed, sealed and delivered, Perez said Thomas can now pack his bags and get ready to travel in January to Arizona for their spring training complex and a strength camp to get him acclimated to professional baseball.
"Right after Christmas and the New Year, he will be heading to Goodyear, Arizona to begin his professional career during the second week of January," Perez disclosed. "After January, the spring training will begin, so he will stay in Arizona and extended spring training."
During spring training, Thomas will get to join Todd Isaacs Jr before a decision is made on where they will eventually play in the minor league in their quest to get to the major league.
"It's going to take a lot of hard work for him to get to the top, but we think he has all of the ingredients as far as his physical ability and baseball smarts," Perez said. "Most importantly, he has a lot of great people around him who can help him to develop into a major league player."
After spending a week in the Dominican Republic, Perez said Thomas has been given his instructions as to what the Indians will be looking for him to do next year.
In his contract, which encompasses a scholarship programme, the Indians would pay for Thomas' tuition whenever he decides to go to school while he is playing or even if he choses to go to college and then come back to play.
With tears in his eyes and showcasing a button of his deceased wife, Michelle, women's national softball coach Sidney Thomas said his son couldn't had gotten a better Christmas present.
"I'm really happy for what we have accomplished today and I'm looking forward to seeing a big and bright future for my son Tahnaj," he said.
Having undergone one of the toughest decisions he had to make in sending his son to New Providence at the age of 13, Thomas said he always knew he had a big heart and he loved the game of baseball and doing whatever it takes to make it work.
"I always knew that he would make something happen playing baseball," the senior Thomas said. "I'm just happy to be at this road right now."
And as he now embark on the next level in the United States, Thomas said he has advised his son to look at it as him leaving to attend college.
"You're just going to play ball now," he pointed out. "So it's something different. You have to go there and do what you have to do. If you go to college, you want to get the best out of the education opportunity.
"But I want him to go there and make the best of whatever opportunity is presented to him. Be respectful to the people and do what they ask him to do."
In the absence of his wife, Thomas said he want to thank everyone in New Providence, who would have played a role in his son's life because if he had to do it all over again, he wouldn't hesitate.
"They did a wonderful job," said Thomas as he started to cry. I want to thank Mrs Kristy Sands and Mr Sands, who opened their home for him to stay in and treated him as their son. I really appreciate that.
 "The coaches, Geron Sands, Greg Burrows and Albert Cartwright, they did a wonderful job. I can't thank these guys enough for what they did. My wife could not be here today, but I know she's looking down and smiling. This is what she wanted to see. This was God's plans and I followed those plans."
Thomas is now the sixth player in the past two years that have been able to sign a contract out of Max D. He joins Dale Davis, who is a free agent after playing in the Texas Rangers organization; Larry Alcime with the Pittsburgh Pirates; Jasrado Chisholm with the Arizona Diamonbacks; Henry Thompson with the Cincinnati Reds and Lucius Fox of the San Francisco Giants.
Todd Isaacs Jr, who is also a part of the Cleveland Indians and Anfrenee Seymour with the Atlanta Braves were both affiliated with Max D, although they didn't sign out of the organization like the others mentioned above.
"Seeing Tahnaj's progress as a 13-year-old coming out of Grand Bahama makes this very special for me watching him sign a professional contract right now," Sands said.
"The hard times he went through over the past year, he was able to overcome them and now I know his mom is looking down and smiling at him. This is something that he has always wanted to do."
Sands said he spent countless nights conversing with Thomas on the best route to get his son on the professional ranks and now the beat goes on.
"It's just showing us that we are doing something the right way and we can only get better," Sands said. "We just want to give ourselves a little tap on the back to see that we are trying to help our country and our community."
Sands said they will continue to push forward because they have t least 3-4 players who they are working on getting them into the pro ranks when they stage their next showcase next year.
"We have some 13 and 14 year players coming up, who we hope to get of as well," Sands said. "So we are looking at sending players of as much as we can. Once the scouts come looking, we hope to have the players ready to go."