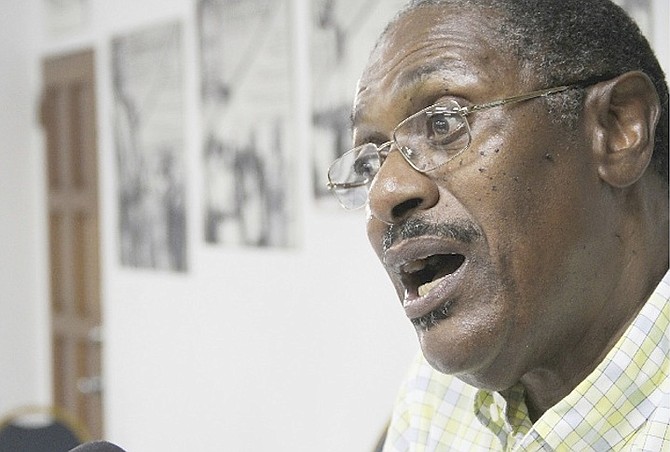 By SANCHESKA DORSETT
Tribune Staff Reporter
sdorsett@tribunemedia.net
PROGRESSIVE Liberal Party Chairman Bradley Roberts said the "recall" of Free National Movement Leader Dr Hubert Minnis as Official Opposition leader in the House of Assembly yesterday is evidence that democracy can be "quite messy" at times.
In a statement, Mr Roberts said clearly Dr Minnis does not "command the confidence" of the FNM parliamentary team he leads. It is "virtually impossible", he said, for the Killarney MP to command the confidence of the nation when he cannot lead his colleagues.
On Wednesday, during the morning session in the House of Assembly, it was revealed that seven FNM MPs wrote Governor General Dame Marguerite Pindling expressing a vote of no confidence in Dr Minnis and asking that he be removed as Official Opposition leader.
The petition by the majority of FNM MPs says that Dr Minnis should be replaced by Loretta Butler-Turner, the MP for Long Island. The move has to be approved by the governor general.
"This phenomenon called democracy is a numbers game driven purely by confidence and often times the motivation and intent of the players matter little in the way it manifests itself. Clearly Dr Minnis does not command the confidence of his inner circle of leaders – the FNM parliamentary that he leads," Mr Roberts' statement said.
"If he cannot command the confidence of his colleagues, it is virtually impossible for him to command the confidence of a nation and in a nutshell that is the fundamental dilemma he finds himself in. We will watch and see how Dr Minnis negotiates himself out of this political ambush and by all accounts his latest 'baptism by fire.' He is a relative political neophyte who was thrust into a position of great consequence and he must find his way and his political bearings if he is to survive. He is not seen as a strong, charismatic or inspirational leader within his party and generally."
Mr Roberts said only time will tell what will "come of the FNM" after this latest debacle.
"Since power concedes nothing without a demand, the coming days and weeks will be quite interesting for him, the FNM, the composition of the Lower House and the impact of these events on the unforgiving and dynamic political landscape of the Bahamas," the statement said.
"It is worthy of note that the ones who stabbed Caesar to gain power; were forgotten in history. Time has never been kind to the coup makers," Mr Roberts added.
The FNM's Torchbearers Youth Association weighed in on the matter yesterday, putting support behind Dr Minnis.
"The Free National Movement was built on the tenants of democracy, transparency and a commitment to good governance," the association said. "The Torchbearers Youth Association, our country's longest standing political youth organisation holds firm to the tenants of our great party and true to current efforts of our party to make our great country a newer and better Bahamas.
"In light of the proceedings in the House of Assembly today, the Torchbearers Youth Association recognises that the leader of Her Majesty's Official Opposition and leader of the Free National Movement are two separate positions. We emphatically state that Dr Hubert A. Minnis remains the democratically elected leader of the Free National Movement and as such he will enjoy the unwavering support of the young people of the FNM. To this end, we will continue to work with our party to ensure the FNM becomes the government of The Bahamas in 2017."