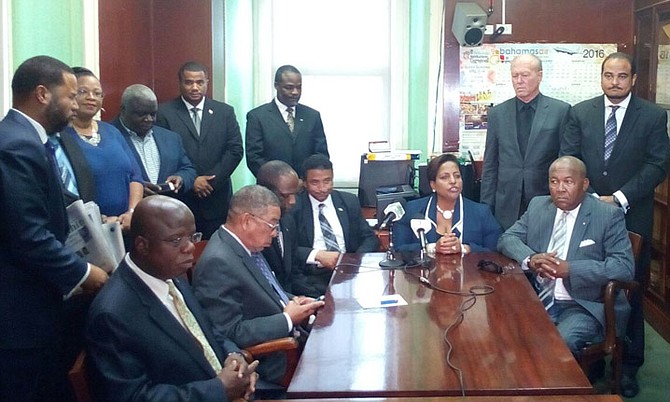 LEADER of the Official Opposition in Parliament Loretta Butler-Turner announced at a press conference Monday afternoon that Democratic National Alliance Leader Branville McCartney has been appointed leader of opposition business in the Senate.
The announcement came in the House of Assembly's Minority Room. Mrs Butler-Turner, the Free National Movement's (FNM) MP for Long Island, was flanked by Mr McCartney, DNA Deputy Leader Chris Mortimer and several FNM MPs.
Mrs Butler-Turner said the move was evidence that her team was willing to put the Bahamian people first to move forward to defeat the governing Progressive Liberal Party.
Mrs Butler-Turner said she and the six FNM MPs who support her have not joined the DNA, but are working together for a "common good."
The FNM's four senators resigned their posts last week after seven FNM MPs wrote to Governor General Dame Marguerite Pindling expressing no confidence in FNM Leader Dr Hubert Minnis. The group asked that Mrs Butler-Turner be appointed leader of the Official Opposition instead.
She received her instruments of appointment at Government House on Sunday.
For more on this story, see Tuesday's Tribune.