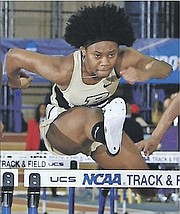 By BRENT STUBBS
Senior Sports Reporter
bstubbs@tribunemedia.net
HIGH hurdler Devynne Charlton is back.
After sitting out the majority of the outdoor season this year, including her initial trip to the Olympic Games because of a back injury, Charlton stormed on the track to lead the Bahamian connection at Purdue University in the Hoosier Open in Bloomington, Indiana.
"It felt good. I felt good finally getting a chance to run healthy again," Charlton told The Tribune on Friday in an interview after the race.
She won the women's 60 metre hurdles in 8.09 seconds, shattering the meet record of 8.24 that was set by Kayla Parker of the University of Kentucky in 2013.
Jas Camacho-Quinn of Kentucky came in second in 8.10 and her teammate Jacklyn Howell was third in 8.27.
"My reaction time was pretty good, but I stumbled on my second step, so I had to regroup and recover from that," she said.
"But once I did that, I got out pretty much ahead of the pack. I felt them closing on me so I just had to stay square and run strong."
In the preliminary round, Charlton had the second fastest qualifying time of 8.45 as she trailed Camacho-Quinn, the fastest qualifier in 8.21. Howell had the third best time of 8.30.
"I'm just looking forward to being competitive this year, pretty much picking up where I left of doing big things in the Big Ten and in the NCAA and eventuqlly making it to the World Championships," she projected.
Charton, who was having a fantastic season before she went down with the inury, also showed her versatility in her return running in the 300m where she was seventh in 39.37. Ellen Wortham, competing unattached, won the race in 38.33.
She noted that the disappointment of having to skip the collegiate outdoor season as well as miss her initial trip to compete at the Olymic Games in Rio de Janeiro, Brazil, along with having her national record broken by rising star Pedrya Seymour (now at 12.64), has made her even more hungrier to compete this year.
"It was very difficult just watching everything that went on," she insisted. "But it was a good experience sitting in the stands and watching the meets take place like the Olympics.
"It was really hard just watching my competition out there and knowing that there was a possibility that I could have been competing amongst that field. So I'm just excited to get back at it and really test myself against some of the best in the world."
While it's still early in the season, Charlton said if she can surpass the 13 seconds that she ran two years ago, she would be quite contented.
Charlton's close friend and sometimes arch rival Carmeisha Cox was limited to relay duties as she competed on the third leg for Purdue University in their women's 4 x 400m relay victory in 3:44.38. She was joined by Chloe Abbott, Symone Black and Brionna Thomas.
Also, Purdue's Kinard Rolle competed in the men's 500m for Purdue University where he won the race in 1:03.18, leaving his team-mate Shawndail McLauren in second in 1:03.67.
In the 4 x 400m relay, Rolle ran the third leg as Purdue crossed the finish line first in 3:14.55. The other members of the team were Obokhare Ikpefan, Shawndail McLauren and Justin Veteto.
And Purdue's Keanu Pennerman competed in the men's 60m where he got seventh in the preliminaries in 6.99. Malcolm Dotson, his Purdue teammate, had the fastest qualifying time of 6.75.
In the final, Dotson won in 6.73 with Pennerman fourth in 6.94.
Pennerman also contested the men's 300m where he was fifth in 35.17. Tennessee's Christian Coleman clocked 33.26 to erase the Gladstein Fieldhouse record of 33.31, set by Indiana University's Gary Gooden in 1988.
Nobody seemed more proud of their achievements than Charlton.
"I was really proud, especially to see the way Kinard and KP competed," she said. "They are both still young sophomores indoors. They both competed and did really well.
"They had rough freshmen years like everybody else does, but I think they will have break ourt sophomore years, so I'm really looking forward to seeing them compete this season."
The Boilermakers, which boost of a Bahamian coaching connection in head coach Rolando 'Lonnie' Greene and assistant Norbert Elliott, will not compete again until Friday, January 6 at the Gene Edmonds Open in West Lafayette, Indiana.