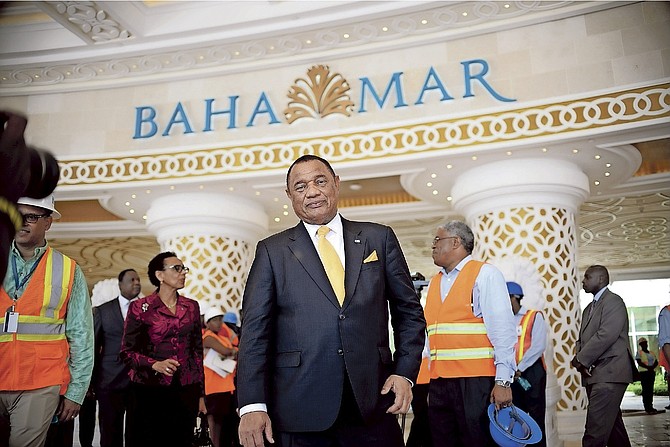 By AVA TURNQUEST
and KHRISNA VIRGIL
PRIME Minister Perry Christie has confirmed the sale of Baha Mar to Hong Kong-based conglomerate Chow Tai Fook Enterprises Ltd (CTFE).
The announcement on Monday morning comes after a government delegation, headed by Tourism Minister Obie Wilchcombe and Attorney General Allyson Maynard-Gibson, travelled to Hong Kong for extensive familiarisation meetings with CTFE last week.
Mr Christie did not disclose the sale price, adding that the negotiated agreement between CTFE and the resort's secured creditor, China Export-Import Bank, were still sealed by the court.
Under its original developer Sarkis Izmirlian, the resort was slated to open in December, 2014. After repeated missed deadlines, Mr Izmirlian filed for Chapter 11 bankruptcy protection in the United States in June, 2015. The government vigorously opposed this process, saying it threatened the Bahamas' sovereignty, and instead petitioned the Supreme Court to place Baha Mar into liquidation.
Baha Mar's bankruptcy cases for its Bahamian entities were later thrown out of the US court.
Mr Christie told the House of Assembly: "The government and I remain focused on obtaining three main objectives: firstly, ensuring immediate remobilisation and resumption of construction based on committed funding sufficient to complete construction and to open all parts of the project; secondly, the opening of the casino, casino hotel, convention centre convention hotel and golf course prior to the end of the 2016/2017 winter season.
"Thirdly," he added, "settlement and or payment of all valid claims of contractors and subcontractors suppliers and employees and other Baha Mar and CCA creditors."
Following the Prime Minister's announcement, Graeme Davis, the President of CTFE's Bahamas subsidiary, said in a press statement that the company will ensure Bahamians benefit fully from the project. This will be seen in the recruitment of employees for the casino beginning in the New Year, CTFE said.
"CTFE will dedicate significant, ongoing investment and resources towards the pre-opening and opening of Baha Mar Resort," the press statement said. "We will also ensure that the Bahamian people and the region benefit fully from the project, which will create tremendous job and economic stimulus opportunities. Further, by combining our global hospitality expertise with the vibrant and authentic Bahamian culture, we will create a memorable, unmatched experience for guests of which all Bahamians can be proud."
In addition, CTFE said it is in discussions with several globally recognised hospitality brands to be luxury hotel operators at Baha Mar including Grand Hyatt, SLS Hotels, and CTFE subsidiary, Rosewood Hotel Group.
To prepare for the opening of the casino hotel and casino, CTFE said it is putting together a leadership team of executives from internationally recognised brands.