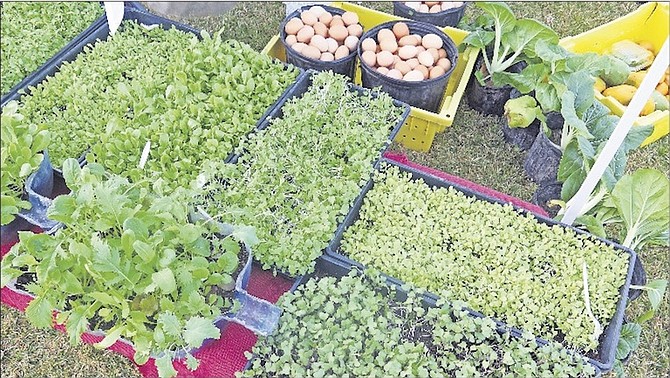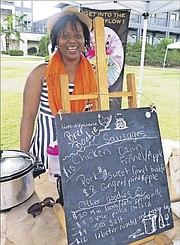 By ALESHA CADET
Tribune Features Reporter
acadet@tribunemedia.net
THE Island House's first Farmer's Market earlier this month, at which Bahamians took full advantage to get their hands on fresh produce grown locally, is set to become a weekly winter event, organisers said.
Curated by the Field To Fork Community Farm team on December 3, The Island House's events lawn, Mahogany Hill, Western Road, was filled with vendor booths that featured Brer Bookie Meat Co's meats and sauces, Abaco Big Bird Farm's limes and avocados, Healthy Concepts' breads, Pop Stop's fruit popsicles, My Bahama Sponge's natural Bahamian sponges, Little Bee Dancer's honey and lionfish, Nature's Way poultry farm eggs and Bahama Island Farms fresh produce.
Field to Fork is a family-operated, mixed vegetable farm that uses sustainable production methods that protect the environment and consumer health.
But for those who missed this great chance to buy fresh, buy local, the Farmer's Market is set to be hosted each and every Saturday from 9am to 1pm on the events lawn until May, 2017. The side gate to The Island House lawn will be open for ease of access.
"We are thrilled to partner with Field To Fork Community Farm who are curating the market for us and bringing a host of local farmers and producers of authentic Bahamian products together. It is like a market experience where you go from tent to tent to just pick what you need in your kitchen for the week," said Anja Allen, Marketing Department representative at The Island House.
She believes the Farmer's Market itself is going to fulfil The Island House's vision to support local farmers, an initiative that has been on the wish list for a long time.
"It reflects how our restaurants work. We use fresh produce and we have had a lot of people reach out to us especially farmers and producers asking how they can get their products out there so we are really doing this to support them and to support the community here. There are so much that can actually be farmed here on the island versus running to the supermarket to buy salads that are shipped in from God knows where," said Anja.
Patrons can look forward to The Island House Farmer's Market to expanding one day into a festival activity where there will be live performances, art and craft as well as live cooking demonstrations added to the vendor list.
Field to Fork organisers, Tim and Dr Selima Hauber, are excited about offering an experience that inspires people to eat well, enjoying fresh, healthy food and recognising that they can produce amazing food in the Bahamas. They believe The Island House has created a beautiful environment and it is the perfect backdrop for families to enjoy the winter weather while experiencing the best of Bahamian produce and products.
"I was inspired to study agriculture before graduating from high school in 1991 to help reduce the country's food import bill," said Dr Selima Hauber. "I then pursued BS, MS and doctoral degrees in horticulture and returned home in 2007. Now that we're actually doing it, I realise how important providing fresh produce is not only for economic reasons but equally as importantly the nation's health. This has become the primary reason I'm doing this now. The epidemic of Noncommunicable diseases (NCDs) threatens the successful, sustainable development of our nation. The World Health Organization (WHO) warns that small developing nations like ours stand to suffer the most from such high rates of NCDs."
More like this story