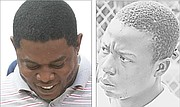 By LAMECH JOHNSON
Tribune Staff Reporter
ljohnson@tribunemedia.net
A JUDGE yesterday said she required more time to consider what punishment she will impose on two men convicted of the murder and kidnapping of a Department of Immigration officer and his girlfriend in Andros.
Zintworn Duncombe, 28, and James Johnson, 22, were due to appear before Justice Indra Charles yesterday to learn their fate for their respective roles in the murder and kidnapping of Shane Gardiner and his girlfriend, Tishka Braynen, in 2013.
Duncombe, Johnson, Daniel Coakley, 28, and Cordero Saunders, 26, were all unanimously convicted of double kidnapping, conspiracy to commit armed robbery and attempted armed robbery.
The Crown is seeking the death penalty for Duncombe and Johnson.
In yesterday's hearing, none of the defendants was brought down from the Department of Correctional Services, which Justice Charles explained to counsel.
"Because of the nature of the matter, I'm unable to render a decision today. I need more time," the judge said.
Justice Charles has adjourned her ruling to January 17, 2017.
Gardiner and Braynen were allegedly killed after a failed plot to take $8,000 in gambling winnings from the immigration officer. Braynen, of Cargill Creek, and Gardiner, who lived in Love Hill, both in Central Andros, were reported missing around 1.45pm on November 24, 2013. Gardiner had recently been assigned to the island. On December 21, 2013, police in Andros discovered the remains of a man with "items related to a female."
At a hearing last month, the prosecution argued that the case met the "worst of the worst" threshold set out in the 2011 amended Penal Code for the discretionary death penalty to be imposed.
Darnell Dorsett said the victims, based on the testimony of Terrel Mackey, were taken to Newbold Farms where Duncombe and Johnson, armed with handguns, demanded money from Gardiner.
"Duncombe shot Shane Gardiner in the head when Gardiner maintained that he had no money. Braynen started screaming and Duncombe shot her to the head execution style," the prosecutor added.
Ms Dorsett reminded the judge that the pathologist said that based on Gardiner's wound, his death was not immediate and so there was evidence of suffering.
Jerone Roberts, Duncombe's second lawyer, countered that this case did not warrant the imposition of the death penalty as it did not fall within the "worst of the worst" threshold set out in prior rulings by the Privy Council.
Mr Roberts stressed that the psychiatrist could not definitively say that the two convicts were beyond reform, which is a hurdle the Crown must get over in order for their application to succeed.
Duncombe, Saunders, Johnson and Coakley, who all maintain their innocence, were each represented by lawyers Ian Cargill, Moses Bain, Donna Major and Terrel Butler.
Ms Dorsett and Patrick Sweeting prosecuted the case.