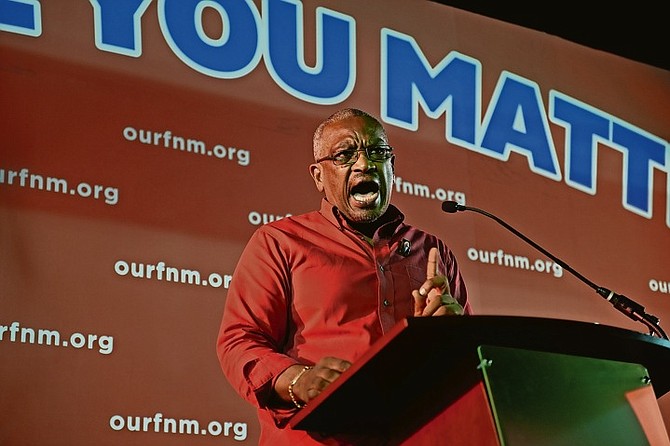 By RASHAD ROLLE
Tribune Staff Reporter
rrolle@tribunemedia.net
FREE National Movement Leader Dr Hubert Minnis said during a rally last night that the party's council has rescinded Loretta Butler-Turner's nomination in the Long Island constituency.
One of his final messages to the crowd of several hundred gathered at FNM headquarters, his announcement, for many in attendance, climaxed an event that was transformed from a typical candidate ratification into a loud, defiant show of strength amid unprecedented crisis for his party.
The late Ray Charles' "Hit the Road Jack" blared from speakers following his announcement.
"Yes, yes!" some shouted. Others waved pom-poms.
"You did not deserve what those seven MPs did to us," Dr Minnis said, referring to last week's decision by his colleagues to oust him as leader of the Official Opposition.
"You did not deserve it."
In interviews with The Tribune, FNM supporters said the "rebel seven" acted as they did because they were motivated by greed.
Dr Minnis' criticism of them, accordingly, received the greatest reception from the crowd.
"Didn't we all endure their public criticism?" he asked. "It seems like almost every week we were being publicly attacked by one of our own.
"FNMs, didn't we have a convention in November 2014? Didn't we have a convention in July 2016? The convention elected its leader and I offered my hands out to all who opposed us."
Dr Minnis said he extended an olive branch to those who opposed his leadership, a claim likely to be disputed by several "rebel" MPs who may feel that they were denied nominations because of their support of Mrs Butler-Turner.
"The FNM has a leader," he said. "My name, my name is Hubert Alexander Minnis."
"FNMs, we can't afford to be distracted. We have a country to rescue. The PLP hit the Bahamas like Hurricane Matthew did, hard and merciless and the damage is growing day after day."

Dr Minnis asked: "Do you think we have time to be fooling around with those outgoing MPs when our people are dying on the streets, losing jobs, losing their homes, unable to pay their light bills, unable to send their children to schools, unable to receive proper medical care?"
Iram Lewis was also ratified last night as the FNM's candidate for Central Grand Bahama.
Mr Lewis is the head of the Grand Bahama Amateur Athletic Association.
Among others, former Senator Dr Duane Sands spoke during the rally amid interest in where his loyalties lay, either with his former running-mate, Mrs Butler-Turner, or with Dr Minnis.
"I support the leader of the party," he said during his speech.