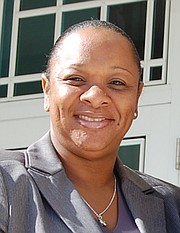 BAHAMIAN-born Sharlene Cartwright Robinson has become the first female premier of the Turks and Caicos Islands after leading the People's Democratic Movement (PDM) party to victory in the general elections.
When the official results were announced on Friday morning, the PDM had won 10 of the 15 seats and the Progressive National Party (PNP) four seats. There is a recount in one constituency.
The Turks and Caicos Sun newspaper reported that PNP leader Premier Dr Rufus Ewing lost his seat.
Former premier Michael Misick, who is before the courts on allegations of corruption, is set to be rejected as a candidate at large by the electorate, according to the preliminary results.
Mrs Cartwright-Robinson, an attorney, was born in the Bahamas in 1971 to Turks and Caicos Islands parents who were working there and was issued with a Bahamian passport. Her family returned to the Turks and Caicos Islands when she was six.
Mrs Cartwright Robinson led a team called "The Dream Team" to the election and had accused the Ewing-led government of having led the Turks and Caicos Islands into an abyss for which the citizens are suffering.
The 7,800 voters had three choices: the ruling PNP, the PDM and the People's Democratic Alliance (PDA) led by Oswald Skippings.