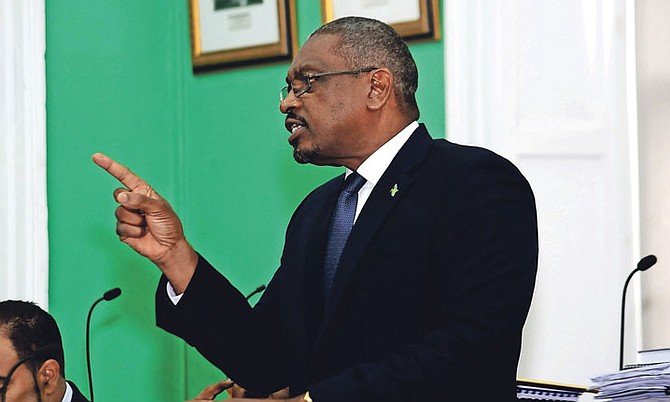 WHILE saying the Free National Movement is pleased that the Christie administration has finally tabled Freedom of Information legislation in Parliament, FNM Leader Dr Hubert Minnis called the move a "political ploy" to save face.
In a statement released on Thursday, Dr Minnis said: "My colleagues and I in the Free National Movement are pleased that the prime minister and his PLP government have finally introduced a Freedom of Information (Bill).

"This comes after repeated calls for years, by the Free National Movement. They want to pretend they are for transparency and accountability, but their political motives on this issue are the only thing that is transparent to the Bahamian people. The continued lack of transparency from Prime Minister Christie on the secret Baha Mar deal he struck with his Chinese allies' shows this FOIA legislation is only a political ploy to help try and save their political futures.
"The PLP government has been promising to enact FOIA legislation for the past four and a half years, but just like every other promise this government has made, it has been empty rhetoric. The PLP truly does not want a FOIA enacted because it would mean that all of the sweetheart deals that they have made would be unveiled. It is clear that the prime minister and the PLP have shown a complete disregard for the Bahamian people and their wishes.
"The embattled prime minister knows that his back is up against the wall and he will do anything to try and save his job, including trying to appear that he is for accountability and transparency. The Bahamian people see right through this act and will continue to reject his failed leadership.
"The Free National Movement stands for accountability and transparency, we stand on the side of the people who remain concerned and troubled by the lack of transparency and details of the PLP's secret dealings with the Chinese. Deals shrouded in secrecy, and further sealed by the courts on behalf of this government. The FNM passed FOIA legislation five years ago but the PLP refused to enact it. Transparency and true accountability with a strong FOIA programme would move the country towards this goal and we will fight every day to have it in place for the Bahamian people."
On Wednesday, Minister of Education Jerome Fitzgerald tabled the long-awaited Freedom of Information Bill after numerous delays and just five months ahead of the next election.
The previous Ingraham administration passed a Freedom of Information Act shortly before the 2012 general election, however there was no date for enactment.
When the Christie administration assumed office, officials said the legislation needed to be overhauled. The bill will grant the public the right of access to records held by public authorities, subject to exemptions, which balance to the right of access against the non-disclosure of government or commercial information where non disclosure is in the public interest. It aims to create transparency and accountability at the government level.