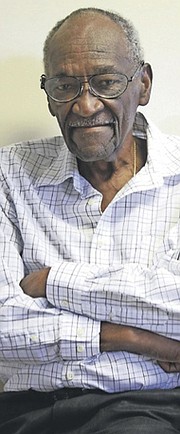 Paul Thompson is the quintessential policeman. His career spanned the modern development of The Bahamas - from colonial times to the challenges of nationhood.
Born in a small farming village in Trinidad, he was recruited by the Royal Bahamas Police Force in 1951. He spent most of his time on the force in the Criminal Investigation Department, retiring in 1981 as an Assistant Commissioner.
He then began a second career as head of security for the Paradise Island Resort & Casino, returning to the police force as a civilian training officer in 1998, and in 2002 was appointed general manager of Wemco Security.
Five years later, he set up his own security company - Paul Thompson & Associates. Now in his 80s, he remains active in security work.
A comprehensive review of schools security is required not just for now but for the future of our students, former assistant police commissioner Paul Thompson says . . .
I was the general manager of Wemco Security when young criminals began seriously challenging the safety of our public schools a few years ago.
The Ministry of Education asked local security firms for recommendations to enhance school security.
In preparing Wemco's proposal I drew on my 30-year career as a police officer, 25 of which were spent in the Criminal Investigation Department (CID), as well as my years of experience as a private security specialist.
The Ministry also recruited a capable ex-police officer, Garth Johnson, to be director of security for the public school system. Johnson had worked along with me at CID, and was one of the best detectives in the department. Even after he was transferred to the uniformed branch he was very often called back to lead special investigations.
Leadership is important. But for the schools' security unit to be effective it has to be supported by the Ministry in terms of resources and recruitment. And the head of security must be closely consulted at all times on policy matters and regulations.
During my security review of the government schools on New Providence I paid close attention to the local environment, and questioned teachers and security guards. Today, I discuss some of the relevant recommendations in my Wemco report.
Environment and infrastructure
First and foremost, there should be proper fencing of school campuses, with the bottom of the fences embedded in concrete or secured with steel cables, so as to make it difficult or near impossible to crawl under.
Trees should be trimmed and brush cleared for improved monitoring of the campus perimeter. Most schools need better security lighting. And the entry of vehicles onto the school grounds should be controlled. Pedestrian gates would enable security officers to conduct random visitor checks, and metal detectors would help prevent the smuggling of weapons onto the campus. Security alarms in offices where valuable property or confidential documents are stored would be useful. And security personnel should be continually monitored in terms of their performance.
There have been some improvements over the years, but many gaps remain. For example, most schools now have security cameras, but security officers often do not monitor them. Alarms have yet to be installed, fencing at most schools is in disrepair and overgrown campuses offer hiding places for intruders.
Access control
Access to schools must be strictly controlled by security personnel. All students should wear a uniform and teachers should carry photo IDs. Any suspicions as to the identity of individuals on campus should be communicated to the principal.
Visitors should be recorded by security cameras and gates affixed with "no trespassing" signs should be closed when classes start. Security personnel should be informed about individuals or groups who may be allowed access to campuses after school hours.
My understanding is that access control is much improved today, with better equipment and training for security staff.
Prevention patrols
Campuses should be patrolled frequently by security staff, and the school grounds should be under constant surveillance. Officers must be vigilant, and report any suspicious activity to the police and principal immediately. They should also be equipped with hand radios.
When patrolling takes place regularly, it has proven to be an effective security measure.
Developing intelligence
It goes without saying that security personnel should keep in close touch with both students and teachers. They need to be aware of the students who cause problems and the parents who threaten teachers. Security officers, staff and students should work as a team to enhance security and prevent serious incidents at the schools.
Regulations
Security personnel should be familiar with school policies and rules, including dress codes and emergency plans. Although the Ministry's Director of Security is in overall charge of school security, principals have a key role to play in supervising the security operations on their campuses. The Director of Security and other supervisory staff should pay regular visits to every school and ensure that proper regulations are being followed.
Conditions of service
In order to attract the right people and motivate them to perform effectively as security officers, terms of employment are important and should include medical benefits. The recruitment criteria for security officers should include physical fitness and a sense of responsibility.
Years ago, when I was a training officer at the Police College, we held exercises for private security personnel at the airport and other government installations. In many cases their physical performance was poor and it was doubtful they would have had the ability to deal with a dangerous situation.
Bearing this in mind, security staff at our public schools should be screened, trained, tested and graded. Those found wanting should be retired or transferred.
Since compensation for school security guards is low, many officers are below acceptable standards. About two-thirds are women, whose performance is mostly satisfactory but who may not be able to deal with dangerous situations such as armed violence. Better wages would attract better applicants and motivate existing personnel.
Criminal matters
It is appropriate for principals and teachers to deal with minor incidents on campus, but any criminal matter - whether minor or major - should be reported to the police for investigation and possible prosecution. No deals should be made merely to protect a school's image. Examples would include possession of weapons or drugs, and assaults or threats against teachers or students.
The number of security personnel ought to relate to the size of each campus, as well as the reputation of the students and the area in which the school is located. A senior officer should lead a security team at each school. As supervisor he would be responsible for liaising with the principal and the Ministry's Director of Security.
District constables
Like police officers, security personnel have certain legal powers. They should be acquainted with their power of arrest so they can act accordingly in appropriate instances. Security officers can arrest people for causing injury or damage to the property they are hired to protect. They also have citizen powers of arrest when a felony is committed in their presence or they have reasonable grounds to believe that a felony is about to be committed.
It would be helpful if school security personnel were sworn in as district constables. This would enhance their powers, as they would be acting directly on behalf of the Royal Bahamas Police Force. This would also reduce the need for regular police officers to be stationed at schools. The cost of using regular police in schools is much greater than the cost of using a well-trained security force.
But whether police officers or private security guards are employed, the goal is to ensure a safe environment for students and teachers in our schools.
It is notable that school security is hardly an issue in the Family Islands. This may be attributed to better parental control and a more disciplined environment at school. On New Providence, school communities face serious security issues, and students should be constantly reminded of the risks to their future that could result from engaging in violent or criminal behaviour.
• On january 9: why illegal immigration is not treated seriously enough
Comments and responses to insight@tribunemedia.net