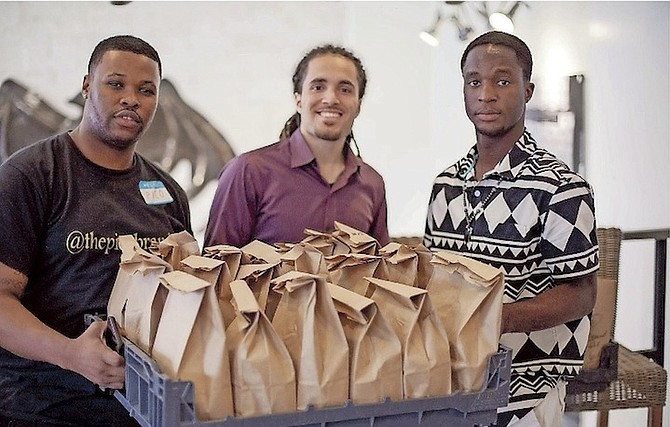 By JEFFARAH GIBSON
Tribune Features Writer 
jgibson@tribunemedia.net
EVEN if only for one day, the local chapter of #HashtagLunchbag wanted to do their best to make at least a small dent in the Bahamas' hunger problem.
To achieve this, the organisation distributed more than 1,000 lunch bags to those in need. 
The volunteers came together last Saturday at Mario's Bowling and Entertainment Palace to assemble the bags of food and finish them off with notes of love and support.
The Bahamian #HashtagLunchbag group, which was founded by Lincoln Deal II, is dedicated to empowering and inspiring humanity through simple acts of kindness. The act of kindness that is the driving force behind the organisation is preparing lunch bags and distributing them.
"The brown bags we used for HLB were designed with love. We view the messages that are written on the bags as an opportunity for us to brighten up someone's day.  We included positive messages and motivational quotes to make them feel acknowledged. A simple note saying, 'God loves you' or 'You're beautiful' can mean the world to many people," said Mr Deal. "The messages we share are one of the most important aspect of what we do."
The #HashtagLunchbag movement was started on Christmas Eve 2015 in Los Angeles, when a group of friends who were having trouble finding a way to give back began looking for anyone that could use a meal. 
Mr Deal said given the origins of the movement, the Bahamian chapter would have been remiss if they had not hosted a charitable event this holiday season.
"Christmas is coined as a season of giving. For that reason it was essential to go into the communities and express our love through the preparation and distribution of lunch bags. It gave people the opportunity to give a gift to strangers," said Mr Deal.
He told Tribune Health that the event surpassed expectations and they are very appreciative of the support from all the volunteers.
"Each time we get together for HLB we meet new volunteers who have seen the good in what we do. We use social media as our primary platform to encourage others to spread love. As we prepared the lunch bags, we laughed, we danced and we came together," said Mr Deal.
"The love everyone felt within was just as important as the smiles on the faces of the unsuspecting people we shared with. The expectations were shattered this weekend."
With a new year about to start, Mr Deal said his organisation plans to continue to serve the community in an extraordinary way, but with even greater goals in mind.
"We intend to set the bar higher than ever before, go into more communities and touch more hearts than ever before," he said.