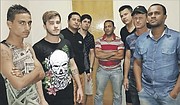 By DENISE MAYCOCK
Tribune Freeport Reporter
dmaycock@tribunemedia.net
FORTY-THREE illegal immigrants were apprehended recently on two northern islands, including 16 this week in Bimini and 27 in Grand Bahama.
According to Grand Bahama police, a team of law enforcement officers acting on information went to a business in Alice Town, Bimini, around 6pm on Monday and discovered eight Chinese and seven Ecuadorian nationals. Police later arrested a Columbian man on Tuesday shortly after midnight in the area of the North Bimini Dock.
The immigrants were handed over to immigration officials and investigations are continuing into the matter.
In Freeport, immigration officials on Monday also apprehended a dozen Brazilians at an apartment in the Hunters settlement, outside of Freeport.
Immigration officer Napthali Cooper reported that on Monday immigration officers acting on a tip went to an apartment complex, where eight men and four women were discovered.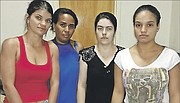 The group was suspected of making preparatory steps to be smuggled into the United States. Mr Cooper said the Brazilians had arrived legally in The Bahamas, but overstayed their visitor's stay and did not seek to have the clearance extended.
They were taken into custody and transported to immigration headquarters in Freeport for processing, and were flown to New Providence on Tuesday to the Detention Centre.
Last Friday, 15 Haitians were also discovered residing illegally in Freeport.
According to Mr Cooper, immigration officers received information concerning some undocumented Haitians residing in the Freeport area.
Officers went to an abandoned apartment building in Freeport around 2pm to investigate and discovered 10 Haitians – five men, four women and one child - none of whom were in possession of documents to verify their legal status in The Bahamas.
A second group of five was discovered later in the evening around 9pm at an apartment on Settler's Way. Immigration officers took three men, one woman, and one child into custody after they could not produce any documentation to verify their legal status in this country.
They were processed at Bahamas immigration headquarters and flown to Nassau, where they are being detained at the Detention Centre to await repatriation.